Margaret Carnegie Print Collection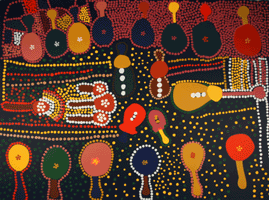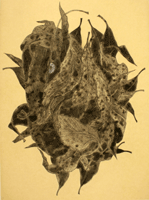 Left to Right: Marlee Naparrula, Guitars, 1998, screenprint; Fiona Hall, Green ant nest, 2006, etching
Over the past forty years, Wagga Wagga Art Gallery's collection of modern and contemporary prints by Australian artists has grown from a small selection, inherited from the Wagga Wagga Art Society, to over fourteen hundred works. Many generous individuals have contributed to this growth, together with the ongoing support of Wagga Wagga City Council. Particular thanks are due to Margaret Carnegie AO OAM (1910-2002), who donated a collection of 150 prints by prominent Australian artists in 1980, and who also established a trust fund for the purchase of further works by the gallery.
The Margaret Carnegie Print Collection provides a rich and engaging overview of the development of contemporary printmaking in Australia from the 1960s through to the end of the twentieth century. Works from the Collection are regularly displayed in themed and survey exhibitions throughout the year.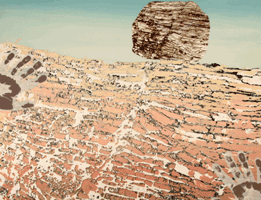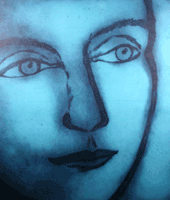 Left to Right: Arthur Wicks, Collecting a stone, Alchemist's Ridge CA, 1983, screenprint, embossing; Barbie Kjar, Lustre, 2003, drypoint
In recent years, Indigenous artists have become one of the most important groups contributing to the growth and development of printmaking in Australia as a vibrant and exciting artform. No collection that purports to be a significant holding of contemporary Australian prints could exclude Indigenous printmaking.
Although works on paper by Indigenous Australian artists have been regularly acquired by Wagga Wagga Art Gallery for some time, it is only since 2007 that a concerted effort has been made to substantially expand the Margaret Carnegie Print Collection in this essential area.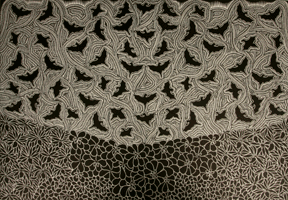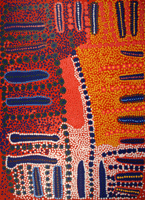 Images (l-r): Billy Missi Sapur au kubi (flock of bats) 2006, linocut
Marlee Naparrula Nulla nullas 1998, screenprint
As with every part of the Gallery's Collections, these acquisitions have been made by purchases, with assistance from the Friends of the Wagga Wagga Art Gallery, and through generous donations, including many gifts made through the Australian Government's Cultural Gifts Program.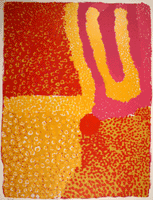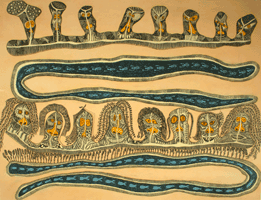 Images (l-r): Lucy Yukenbarri Winpurpurla winpurpurla 2003, screenprint
Treahna Hamm Murrumbidgee river 1998, etching, handcoloured
Dr Cath Bowdler, Manager of Wagga Wagga Art Gallery 2007-2010, writes:
Printmaking by Indigenous Australian artists began in the late 1960s when the writer and activist Kevin Gilbert produced linocuts with the aim of preserving and promoting Indigenous culture. Following this there were isolated instances of prints being produced in Arnhem Land and the Tiwi Islands followed in the 1970s. Many urban-based Indigenous artists took up printmaking in the 1980s, but it was not until the 1990s that printmaking really took for artists based in remote communities.
Individuals such as Theo Tremblay, Helen Eager and Martin King contributed to the development of printmaking in Indigenous communities, but the real turning point came with the establishment of the printmaking facility at Northern Territory University in 1993, now called Northern Editions. This enabled artists to come to Darwin to produce prints with master printer Basil Hall, and facilitated printmaking in remote communities through the input of Leon Stainer.
In the last two decades there has been a boom in Indigenous printmaking, and nearly every community art centre and major artist has ventured into printmaking in one form or another, often with spectacular results. Artists work across all forms of printmaking in their communities and now produce works of great sophistication and beauty with the aid of master printers.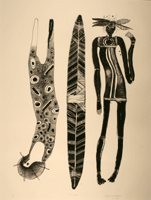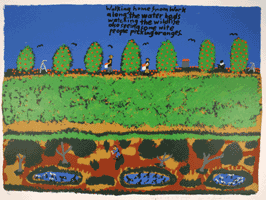 Images (l-r): Arone Raymond Meeks Bush figures 1988, lithograph
Ian Abdulla Watching white people 2004, screenprint