NSAGP 2012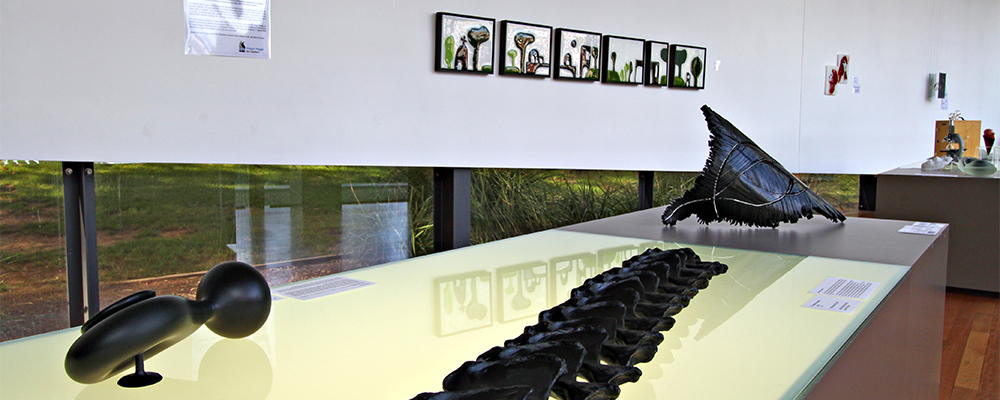 National Student Art Glass Prize 2012, Installation View
The National Student Art Glass Prize is a biennial competition launched in 2010, and established to reward and promote innovation and excellence in contemporary glass within the student sector. In this year's exhibition, works by thirty students from universities across Australia are on display – and the winner will be announced at the official launch of the exhibition on Friday, 23 March!
The success of the inaugural National Student Art Glass Prize in 2010 has already established this competition as one of the highlights of the Australian art glass calendar. With so many exciting and fresh young artists on show, it's an unmissable opportunity to find out what the future of Australian glass has to offer. Casting, fusing, engraving, and many more experimental techniques – these are glass artists who push beyond the mainstream to explore new skills and concepts.
"Wagga Wagga Art Gallery is very excited to continue to offer this unique opportunity to emerging glass artists from across Australia," said Michael Scarrone, Curator – Glass, National Art Glass Gallery and National Art Glass Collection. The prize is open to all Australian and international students studying art glass as part of a university course in Australia. The winning artist will receive two masterclasses and a conference at North Lands Creative Glass in Scotland, internationally recognised as the most prestigious institution for the study of glass art in Europe, and their work will be acquired for the National Art Glass Collection.
The National Student Art Glass Prize will be judged by two of the country's most prominent and respected glass artists, Canberra-based Matthew Curtis and Wagga Wagga's own Denis O'Connor; and the winner will be announced by Blanche Tilden, the renowned glass artist and jeweller, at the exhibition launch on Friday, 23 March. The launch will be followed, on Saturday 24 March, by a unique Glass Forum, bringing together glass artists and teachers from across the country; and, also on Saturday, a Champagne Lecture by Belinda Toll, the inaugural winner of the Prize in 2010.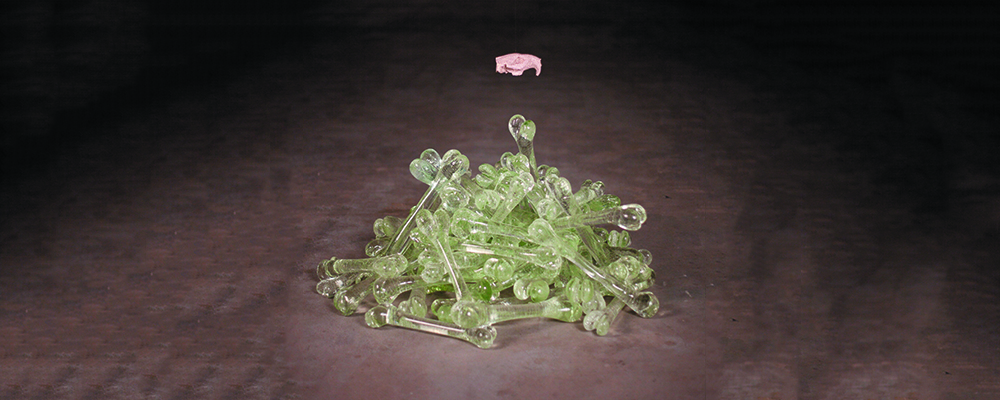 Christopher Boha, Pile of bones 2011, sculpted glass, cast and marked beaver skull
How does one define home? Is it the house that you live in? Is it the house or area where you grew up? Is it the family and friends that surround you? What if you were to move to another location … another town, suburb, city, state, or country? How we define home and more importantly how we come to 'feel at home' are some of the questions that shape and influence my current practice. As a recent migrant to Australia, my work reflects the diasporic feelings that often come with significant relocation but instead of only being accessible to those who have relocated over great distances, my work strives to access the realm of shared human emotional territory and invites personal readings and interpretations. my work is steeped in feelings of memory, loss, nostalgia and the passing of time while being balanced with optimistic and forward looking overtones.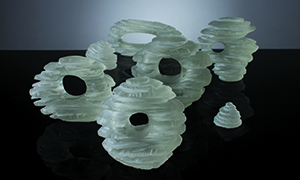 Jennifer Ahrens, Erosion Series 2011, blown and hot sculpted glass, carved and sandblasted
"Time.
Water and wind passing over rock.
Energetic yet still.
The processes of nature shape and erode land, wearing away the surface.
A void, a point of energy, promoting contemplation."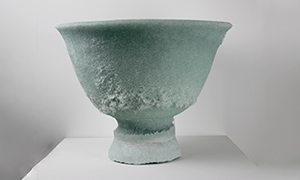 Mark Ammermann, Large Rice Bowl - Visibead 2011, cast glass to tack fuse
This bowl is part of a series of bowls that explore the transformations that occuring when a small object is made large.
It is made from Visibeads (a Trademark of Potters Industries), which are glass spheres used to illuminate road marking paint.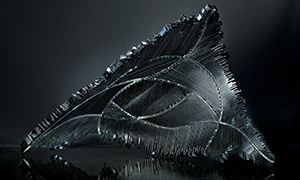 Jennifer Ashley King, Batiment Noir 2011, kiln formed glass
My work is a response to the interconnections between the built environment, light and materiality. It can be perceived in a multiple of ways, ranging from luminous glass sculptures, to maquettes for impossible and unknown structures, to a dialogue engaging with architectural theory and contemporary sculptural practice. The work is constructed from hundreds of cut glass shards that are fused and manipulated using heat and gravity.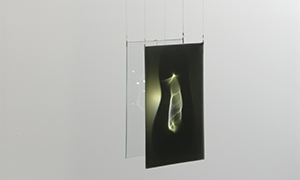 Christine Atkins, Refractions IV 2012 (detail), glass, tint, LED
Fleeting moments in time discovered in a natural environment captivate and inspire me. A simple example, is a leaf sitting in a pool of rainwater. While investigating the materiality of glass, I found that the phenomena that create those pockets of time could be translated through the glass medium. The interaction between light, glass and water is the basis for much of my exploratory work. I am interested in highlighting the phenomena created during the interactions between these materials while echoing phenomena found in nature.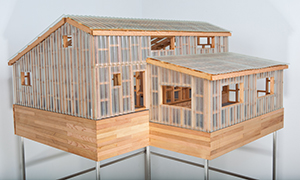 Nadine Felicia Betts, Lullaby 2011, glass, timber and sound
Glass and iron are both regular components in architecture, especially housing. In my work, I am rolling these forms into one, creating a window into my world of roofing materials. These once cold materials are transformed into a sculptural paradigm of what I consider home.
By using glass I am expressing the fragile nature of memory, and my personal nostalgia towards corrugated iron. The sound in my work evokes personal memories and is an audible record of my lullaby of rain, it is a connection between myself and the audience, allowing them to experience a mediation of my memory.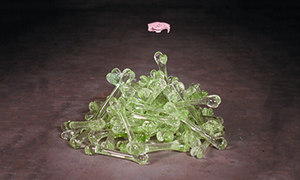 Chris Boha, Pile of bones 2011, sculpted glass, cast and marked beaver skull
How does one define home? Is it the house that you live in? Is it the house or area where you grew up? Is it the family and friends that surround you? What if you were to move to another location … another town, suburb, city, state, or country? How we define home and how we come to 'feel at home' are some of the questions that shape and influence my current practice. As a recent migrant to Australia, my work reflects the diasporic feelings that often come with significant relocation.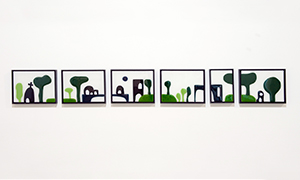 Emma Borland, Pueblo 2011, fused glass
This work is an extension of my Architectural Landscape series. The inspiration for these glass paintings belongs to my parents. Their personal and professional flair for colour and design is reinterpreted and translated through the medium of glass. These glass panels are reflective of my childhood in the 70s, based on memory, senses and style. The colours are metaphoric adjectives for those memories.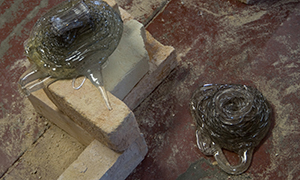 Dan Bowran, Kiln Formed Glass & Studio Partners 2011 (detail), glass & artifacts of production
The aim of this project was to reassess the traditional perception that views materials and process as instruments to service concept, and in turn questions the notion of mastery over medium. The definitions of materials and process can be expanded beyond instruments for purpose and function, to incorporate a broader view that perceives each stage and element as active collaborators possessing an innate intelligence. This focuses on their potentials rather than restricting them to their conventional roles.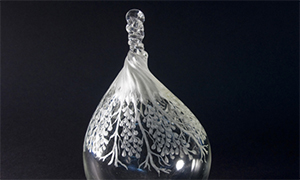 Magdalena E. Bucsek, Breast Maps (series) 2011 (detail), hand blown and diamond engraved glass
Breast maps are indicative to all notions … of the feminine… of the gaze… of the baring of breasts in old paintings of the past. I think of nudity and nakedness. I thought of the transition from child into adulthood. I thought about evolution of civilisation, of nature and nurture, and of what is beauty. I think of Grandmothers, Mothers and Daughters.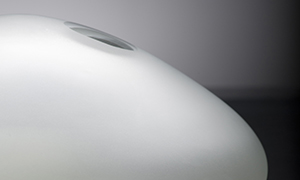 Hayley Anne Carpenter, Overlooked 2011 (detail), blown and hand finished glass, printed ink
My work is motivated by a desire to feel a sense of connection to the people in my local urban environment. Through my investigations of theoretical studies of the everyday lived experience, I believe that connections between strangers are made possible.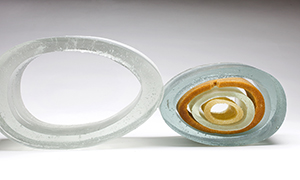 Annabelle Davidson, Untitled #5 2012, cast glass and pate de verre
Though an investigation of the material and exploring the potential for combinations in colour, light, texture and composition, my aim has been to create works imbued with a feeling, or sense of protection and stability. However, their composition also gives one the feeling of precariousness and it is this duality I find most intriguing.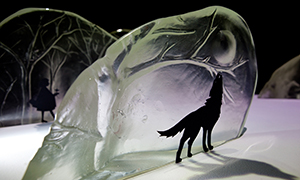 Spike Deane, Into the woods, again 2011 (detail), glass, paper, digital projection
Into the woods, again is a mixed media installation of hot cast glass, paper silhouettes and projected stop motion animation. With these materials I use the familiar narratives of folk and fairy tales to explore themes of individual transformation and metamorphosis, of becoming and inner potential. Folk and fairy tales for me, encourage us to believe that change and transformation are essential aspects of the human condition.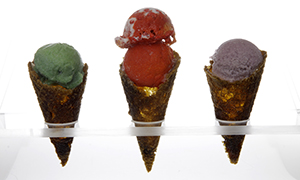 Marcaela Faithfull, iScream 2011, pate de verre
"I scream, you scream, we all scream for ice cream!"
- 1925 song by H. Johnson, B.Moll, R. King.
The texture of pate de verre reminds me of the beach. As a child at the beach my family and I would eat ice-cream and sing this song, hence, the inspiration for the creation of my first objects made from finely crushed glass.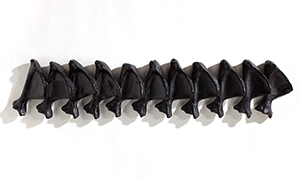 Alexandra Frasersmith, Blades 2011, Blackwoods casting crystal
The divine internal architecture of bodies inspires me; while I find the significance we give bones intriguing. Many of us inherently behave as if a person's soul or essence still inhabits them after death, and it is this essence that I am trying to capture in my work.
I work from found bones and transform these by building forms that suggest fictitious skeletal structures. The bones are transformed into glass through the casting process, in clear or black glass with a repeating element that defines the final structure.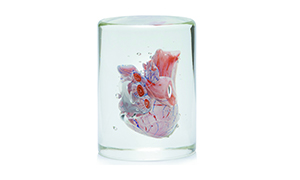 Tegan Hamilton, Pulmonary IV 2011, hot sculpted glass
My anatomical objects encased within solid forms of glass reference objects found in anatomical museums. The use of the cylindrical form creates a lens to magnify the object inside, alluding to the manner in which anatomy reveals the internal body.
The surgeon and the artist share an iconic status and privileged gaze which passes through surface structures. The viewer is encouraged to examine the body through a medical gaze which is calculating, inquisitive and penetrative.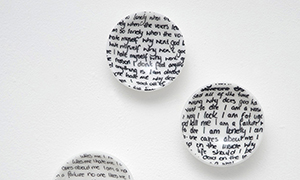 Roslyn Harris, Voices Within: A life of mental darkness 2011 (detail), fused and slumped sheet glass
Within this composition l aim to explore the impact of negative thoughts, why are they part of our psyche and what role they play? This will be achieved by enabling the viewer to experience negative thoughts via visual representation using text encapsulated within a series of vessel forms.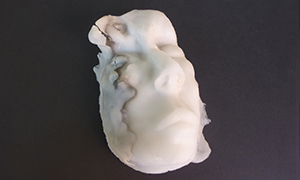 Nicole Heffe, Portrait 2011, pate de verre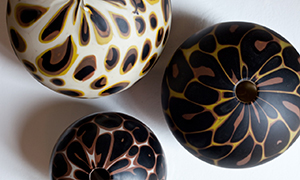 Katie-Ann Houghton, There's more than one way to skin a cat 2011 (detail), blown glass
This work was a project that expanded my practice on both a conceptual and technical level. Originally created as a playful commentary on the way that humans view animals as objects and have for centuries used them for furniture, design, and fashion, this piece builds upon a body of work that aims to create a dialogue between the objects and the memory of historical artefacts seen throughout time.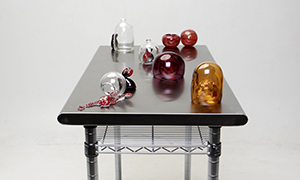 Naomi Hunter, Skin - An imperfect coat 2011, blown, hot cast and hot sculpted glass, murrini and resin
My skin is the coat I wear, a vital membrane, a demarcation between the internal body and the world. If escaping blood is visible it often denotes some kind of damage to the liminal layer, in a sense exposing the body to the outside world leaving it vulnerable in its act of staining the world with its fluids. This sculptural installation relies on the synergy of polished steel, glass and light. Steel skin: bare and exposed, abstracted parts of the whole, reflecting metaphoric armour and questioning the fragile balance between the internal and external self.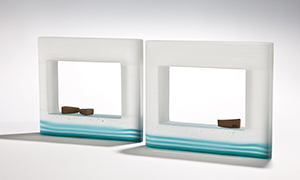 Mikyoung Jung, An azure moment #1 2011, kiln-formed glass and wood
In my recent work, I engage with formalistic interpretations of nature and landscapes as seen through my migration then to transform them into simple, outlined forms of kiln-formed glass as opposed to a verbal explanation of my experiences. I incorporate lines and colours in their primary forms into the surface of my sculptural objects as well as using a simplification of forms using basic shapes to emphasise a sense of simplicity. To convey a multi-cultural identity, I tried to work lots of multi-layered glass into one form.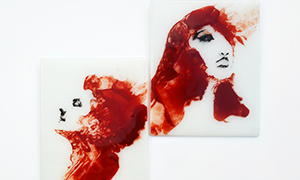 Anastasia Liolio, You and I 2011, kiln-formed glass
I have an acute appreciation and obsession for organic lines, the gestural traces of the hand at work in a drawing or painting. My intent is to preserve the spontaneity of the initial marks made while drawing with powder on glass. There is tactility in glass that I feel gives a highly expressive texture to a painting's narrative that is simply different from canvas. This work is a depiction of the relationship between my partner and myself. Both subjects are drawn on separate panels giving them their own identity, but are simultaneously bonded by the visceral material that subsequently forms their being.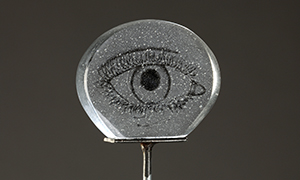 Alice Mahoney, Perspective 2011 (detail), Bullseye sheet and powder glass, steel and wood
My eye has opened to new ways of considering glass through undertaking a kiln formed glass course. I no longer see cast and kiln formed glass as solid, heavy and static. The thin metal rod holding the eye moves around if touched expressing a freedom and evoking a sense of precariousness that people associate with glass.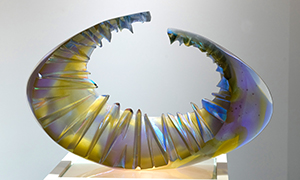 Ruth McCallum-Howell, Rhizome II: Rupture 2011, cast glass and dichroic inclusions
Rhizome II : Rupture is a manifestation of a philosophical rhizome or an "image of thought" that apprehends multiplicities; based on the botanical rhizome. The idea that a rhizome may be broken in any part; and will start up again in one of its other parts and re-establish new connections, is crucial to our perception of non-linear space and how it is seen to operate.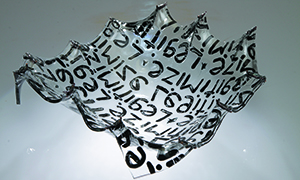 Nina McKay, Legitimize 2010, kiln-formed glass and copper
This piece explores the idea of 'legitimization' or the act of legitimating an idea, seeking to create a visual metaphor commenting on its place in our current context. My ideas grew from the medium it-self, the nature of the glass informing many of the juxtapositions within the piece; the shiny fluid surface and the vessel like shape contradicted by the sharp edges, and the obvious lack of functionality that is inherent in most peoples perception of glass. Each aspect of the piece having connotations that reflect or question the ethical considerations surrounding legitimization practices of and by our culture.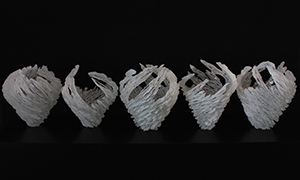 Natasha Natale,Stumps 2011,blown and carved glass
Through the fragile and decomposing plant life in my surroundings, I am exploring my connection to the garden which I grew up in and have watched deteriorate over the years.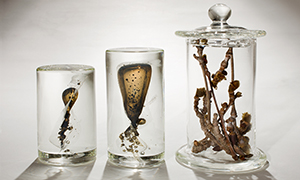 Emilie Patteson, Preservation II 2011, hot sculpted and blown glass, found objects
My work is a reflection on nature and life cycles, a consideration of mortality. It provides a chance to pause and really look, an opportunity to realise that life is beautiful, fragile and precious. There is beauty even in remnants and dying things, like browning grasses: even though they are dying, their seeds are being cast to bring new life. Death helps life survive. Decay leads to growth. Encased in glass, the organic object is trapped and preserved, protected and immortalised. My methods of preservation however, also destroy. Objects embedded in hot glass burn, and only ash remains.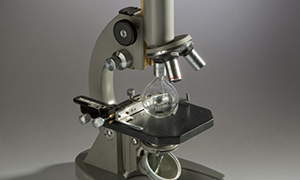 Jasmine Targett, Observation 2011 (detail), hand blown glass, microscope and case
Observation challenges the way we understand the world, thinking about observation changes what we see. Observation explores the relationship between observation and perception.
The view through the lens of the microscope reveals that perception is reliant on perspective. Viewing nature at this level of reality challenges our internal order of existence. In this moment there is a bubbling up, in which the observer and the observation become entangled.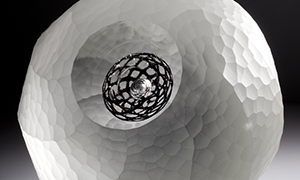 Zoe Woods, Microcosm 4 2011 (detail), blown glass, wheel cut
An infinite world of complexity lies below the scale of human sight. This body of work explores elements of symmetry and pattern that are found in microscopic nature. By utilising the distortive and reflective qualities of thick blown glass, I have encapsulated the pattern on an internal floating bubble. I hope the pieces will draw the viewer in, evoking a feeling of wonder and discovery.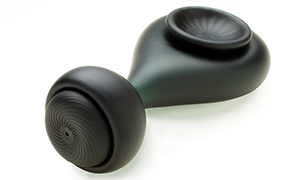 Nick Woolley, Zero Point Bottle 2012, assembled blown glass, cold worked
Zero Point Bottle in part arose out of a desire to create something new, something without precedent.
An origin of this work might be found in my fascination with the remarkable capacity for conceptualisation and imagination found at the horizons of thought in the realms of science and theory. Constructions such as Zero Point Bottle arise from a sense of wonder encountered at that which is conceptualised or imagined.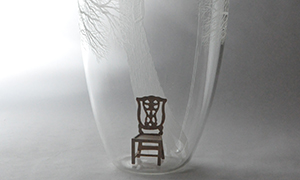 Kayo Yokoyama, Homeland Standing Together 2011 (detail), blown & engraved glass, wood
This work reflects the journey from my childhood dream to my mature acknowledgement of who I am and where I am. Arriving at the homeland where I belong evokes feelings of happiness, providing enlightenment of my existence and awareness I belong to a place. The chair is waiting for me to sit, to be at homeland.