NEAGP 2016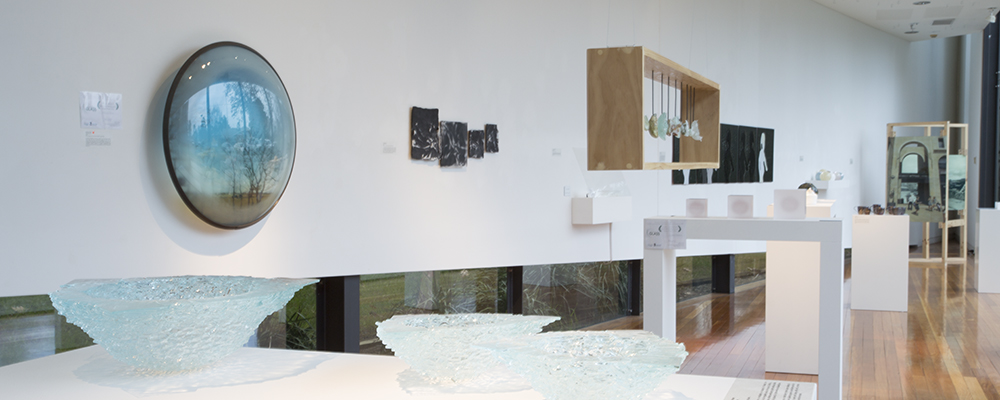 National Emerging Art Glass Prize 2016, Installation View
The National Emerging Art Glass Prize is a biennial competition, established to reward and promote innovation and excellence in contemporary glass. The Prize is open to current students of glass or practicing glass artists within five years of graduation.
For the 2016 award, thirty of Australia's most innovative and exciting new glass artists have been selected to present their entries. The exhibition features current students and recent graduates from universities across Australia including the Australian National University, the University of South Australia, Monash University in Melbourne, Edith Cowan University and Curtin University in Western Australia, and the University of Sydney.
Together, these extraordinary new talents showcase the future of Australian glass as one of the most dynamic, experimental, conceptually challenging and yet technically skilled movements worldwide.
Michael Scarrone, curator of the exhibition and the National Art Glass Collection, says, "Wagga Wagga Art Gallery is very excited to continue to offer this unique opportunity to emerging glass artists from around the country. This competition is very important because the works are so experimental and boundaries are pushed. It's about the imagination of the artists in finding the possibilities."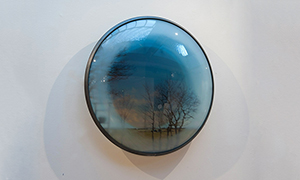 Melinda Willis, Resonance IV 2015, kiln-formed and cold-worked glass, assembled
Through its ability to compress, reflect, and reinterpret space, 'float' glass has had a tremendous impact on the way we interact with, and observe our surroundings. Resonance IV investigates and highlights the qualities of this fascinating, and ubiquitous building material in modern architecture; and examines how it can alter our perceptions of the environment around us.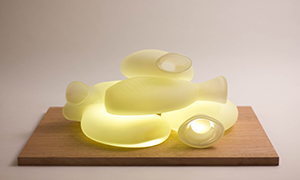 George Agius, Heart Standing Still 2015, blown and sculpted glass, LED, Tasmanian Oak
The Great-Grandmothers explores heritage and ancestry and displays these narratives in a way that is familiar and yet unsettling to the viewer; that evoke the awareness of the absent figure. These are blown glass plates, slumped in a kiln, photographs screen-printed onto a kiln shelf to fusing point, transferred onto the plates and re-fused.
Heart Standing Still is about seeking comfort through the loss of a loved one. This work is blown and hot sculpted, lathe worked and sandblasted exterior on a Tasmanian Oak base utilizing LED.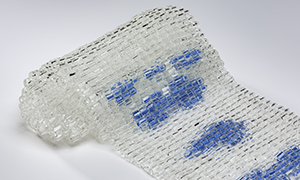 Veronica Andrus-Blaskievics, Interwoven 2015, glass, fishing line, cloth
A very important aspect of the work is its link to my cultural background and family history. To integrate references to my personal story, I started incorporating embroidery motifs drawn from traditional Transylvanian embroidery motifs. These allow me to reflect on my culture. In order to represent my identity and incorporate what I consider physical fragments of my grandfather in the work, I use my grandfather's garments to create the patterns. The thread cut from my grandfather's garments is inserted into the beads to create the patterns and embed fragments of my lost grandfather into the work.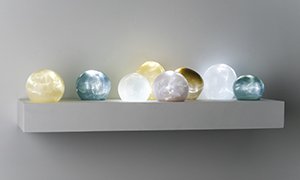 Christine Atkins, Light Waves 2 2015, blown and hot sculpted glass
My 'Light Waves' series explores the similarity in light refraction as it passes through glass and water. An LED and glass lens, resting inside each of the glass spheres, creates the distorted light lines that are captured on the surface. The works range from single pieces to small collections of spheres in varying colours that glow with a play of light.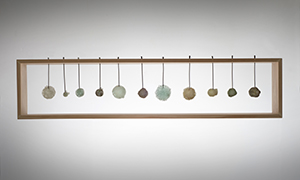 Fleur Bain, Thermal History 2015, recycled cast glass, timber, steel wire
This work examines the uncertain nature of glass, as each object was developed as a result from extensive experimentation. In this sense the eventual intricacies of the surfaces, patterns and textures seem to be the intended focus, yet the support structures work to subtly compliment the imperfections in the glass. Each element to this work has its uniqueness, made from mass produced discarded remnants. They are not 'perfect', but are unrepeatable.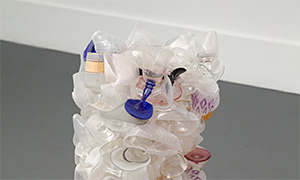 Andrea Baxter, Untitled 2015, kiln-formed collected glassware
My practice investigates the relationship between order and disorder and the disruption of stability. Accumulating abandoned and obsolete glassware, still carrying residues of memory and the passage of time, I subjected these objects to intense temperatures over extended duration's. Allowing the process of becoming where form is ever emerging rather than given in advance, the fluxes and flows of the material created unexpected outcomes. Now falling into new and unpredictable forms, a poetic description of uncertainty and transformation emerged.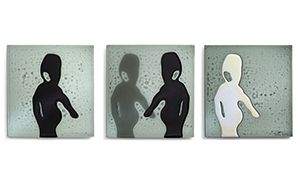 Emma Borland, Dancers Pentaptych 2015, fused glass, stainless steel
The 100 Panel project has emerged from a sequence of life events. In my twenties, while studying art at Prahran College, I was introduced to outsider art and the Art Brut movement. In my thirties, while living in England, I worked for a few years at Bradbourne riding stables. There I had the privilege to work with the founder of riding for the Disabled. In my forties, while studying a Master of Teaching at Monash University, I became acutely aware of the challenges faced by children with special needs in the education system. These three experiences, each a decade apart, became the motivation for this project.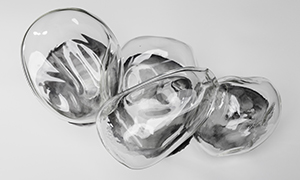 Rose-Mary Faulkner, In Balance 2015, blown glass, watercolour, ink and pencil on paper
My work engages with the subtlety and fragility of glass combined with drawing to map and record the form of the body, the movement of nature and the shapes and lines that connect these. The blown rock forms, which stack and balance together, resting on paper shadows of their reflection, examine the way we can visually divide the body and the landscape into circular sections. The cast glass skins of my own body, rest upon etched glass with markings reflective of skin and the motion of the breeze to draw upon similarities between nature and body in reference to line and form.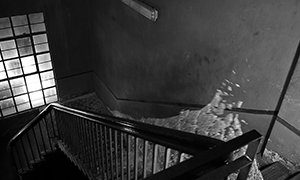 Ngaio Fitzpatrick, Anthropocene 2015, HD Video
The video work is situated within an industrial coal fired power plant re purposed as a glass making facility. Sheets of industrial glass, representing human progress and protection from natural forces are used with coal and steam speaking of the increased speed, growth and pressure exerted on our fragile planet.
I use the sound and imagery of shattering glass to draw the viewer in, poetic rather than explicit, to question human complacency, to disrupt old patterns of thought and behavior.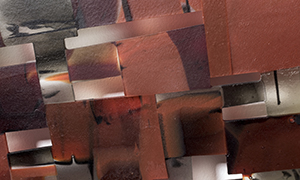 Hannah Gason, Altered scape # 1 2015, kiln-formed glass
My work is an exploration of self through the materiality of glass. I use transparent coloured glass in combination with bold lines and markings to create imagery in kiln formed glass. I dissect and reconstruct the imagery to pursue a harmonious balance in the work, using systems of relationships and representations. I make decisions on colour informed by my experience of glass and ultimately the colours express my feelings at the time of creating the work.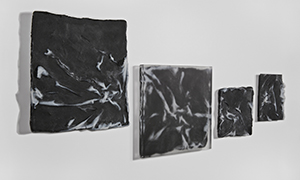 Marina Hanser, Conceal/Reveal 1 2015, pate de verre, kiln-cast, carved and cold-worked
A central piece partially concealed and protected, surrounded by others free to reveal what lies hidden within. I start by creating drapes and folds with cloth, covering it with a layer of wax to stiffen the surface of the material, which I then cast in glass. I then combine traditional and nontraditional kiln casting, cold working and pate de verre techniques to allow the central piece to reveal itself in different ways.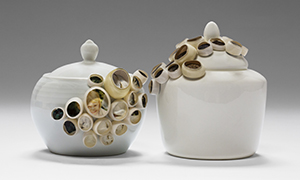 Sara Hellsing, Summer fishing (from the Barnacle series) 2015, hot sculpted and kiln formed glass, decals, enamel, found objects
My work engages with themes of memory and recollection as I seek to translate these phenomena from the nebulous space of the mind into physical, object form. Summer Fishing examines the notion of the memory object and the way in which episodic memories (our conscious recollections of people, places and events) can inhabit domestic items. Solidified in glass, the fragmented image extends across the found porcelain like barnacles on a bottle or precious pebbles of memory, continually collected and compiled.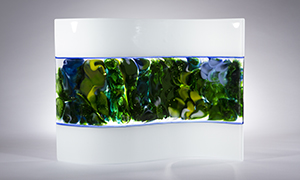 Sarah Hicks, Fleurs Flottantes 2015, kiln-formed glass
Fleurs Flottantes is a free standing glass object, shaped to recreate the undulation of water. Fleurs Flottantes is inspired by Claude Monet's "Water Lilly Pond", as the colours resemble lilies floating in the glass. The effect in the central panel was created by using a wire mesh melt dripping technique, along with fusing, and slumping. The overall concept focused on exploring the intricacies of dripping glass through wire, and how each fold and drip is carefully formed by heat and gravity.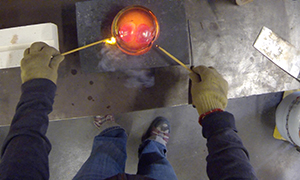 Naomi Hunter, Side by side (together apart) 2015, video, hot cast glass
The video footage documenting my studio processes enabled me to view myself from the outside and in motion, seeing the amalgam of my conscious and unconscious bodily actions. The footage also showed visual record of the glass as it was being formed, while it was shifting and changing before the final object becomes apparent. The video documentation provides a glimpse of the glass, moving as it takes shape, which unless recorded is lost as the object begins to cool.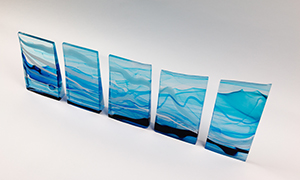 Debra Jurss, Sections #1 2015, hot formed, kiln-formed and cold-worked
Joyous wonder
Still moment
Frozen in time
Pieces of a memory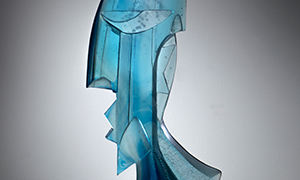 Brent King, Affectation 2015, cast lead crystal, open mould cast
This work explores the nature of representation, the ways in which we are viewed by others, the ways we view ourselves and the interplay and anomalies that exist between external and internal states of being; the revealed interior of the cast object becomes a habitable space for identities. The paradoxical boundary that exists between these planes, the surface from which our identities, our many selves are perceived, is inherently coded.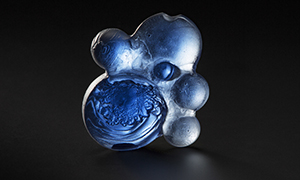 Cassandra Layne, Bending II 2015, cast Gaffer glass
My aim is to create abstract work that demonstrates transformation, specifically the liminal space between thought and object. My work creates an illusionary space that plays with the eye's natural ability to hold a consistent image using kiln-forming and casting techniques. The use of different textures and finishes on the glass causes the surface to look as though it were fluctuating. Observing the work for an extended period of time causes the surrounding pattern to lose its stability and become more convincingly false.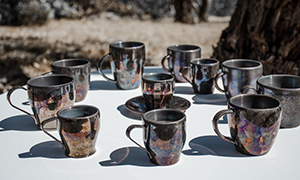 Nikki Marcel, If I knew my fate would I still live here? 2015, hot cast glass
Each summer we prepare for the bushfire we hope never comes. If the tassemancer could read my fortune from tea leaves and coffee grinds would I really want to know? Would you?
This work explores issues about the temporality of our existence; our relationship to nature; and how individual bushfire experiences form part of our collective national identity.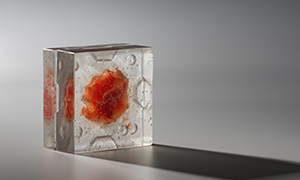 Catherine Newton, Captured Emotions 1 2015, cast and cold-worked glass
Drawing on the connection with mothering and the mother mold, a term used to define the plaster form that gives a prescribed shape to glass when casting. Creating a dialogue between technical and visceral I have made the mold out of glass altering it to be something precious and transparent as opposed to something discarded. The transparency of the mother mold creates a visual language playing with the idea of mother molds as a way to reveal and manipulate the shape and contents and to add layers of meaning.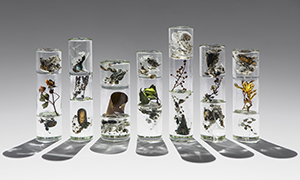 Emilie Patteson, Instill Series: (L-R) Rose (Rosa species), English Lavender (Lavandula angustifolia), Persimmon (Diospyros species), Apricot (Prunus armeniaca), Chinese pistachio (Pistacia chinensis), Raspberry (Rubus species) 2015, blown, hot sculpted and assembled glass with organic inclusions and dried plants
My series Instill explores themes of collection and life cycles. I am heavily influenced by my childhood collection of natural objects. I strive to capture the sense of wonder I experienced as a child. I preserved the objects that are precious to me by embedding them in hot glass, which also destroys them. This method allows me to examine life cycles and the beauty in the fleetingness of life. These plants are collected from my parent's garden in Orange, NSW.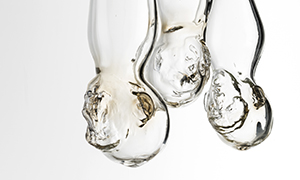 Thomas Pearson, Three heads 2015, blown and hot sculpted glass
I was inspired by the additive drawing processes of Francis Bacon and aimed to create a series of busts that was built up of lines and contours that are created when glass is scarred from within by hot sculpting tools. By drawing closely from the portraits of my own father-figures I explore an autobiographical identity.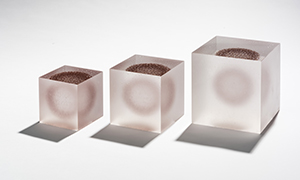 Clare Peters, Wisdom Contained, Wisdom Explained, Wisdom Revealed 2015, multiple layered fused glass and sepia text
Using light, multiple layered fused glass and text, I aim to create works that allow the beauty in life to be revealed, bringing a sense of wonder and hope.
These minimalist block forms contain text, which has been selected from the scriptures, deconstructed, and reapplied to the glass in layers. The layers are then recombined and fused into a sculptural form, suspending the words in space - creating a place for inspiration, revelation and hope, using an encoded visual language.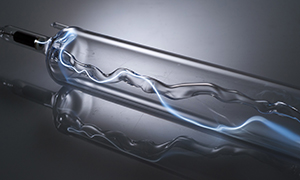 Darcy Stephanie Smith, (dis)connected 2015, krypton filled borosilicate
Exploring ways that elements of a system can connect and communicate the innate relationships existing between things. However symbolizing this human connection none of us no longer share.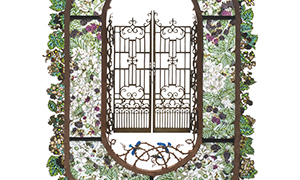 Janine Tanzer, The Trouble with Blackberries 2015, glass, copper, silver, stained glass, plique-à-jour
Blackberries have an ambiguous nature. They tempt you with their fruit, then entrap you with their thorns. In this work, I used stained glass, plique-à-jour and metalsmithing to suggest the passage of time in the recurring transition from flower to fruit.
The gates obscure the freedom beyond. They open inward to make the path to freedom accessible. Below the gates, entangled in the brambles, are three bluebirds. Two struggle; one accepts its fate. Even for the trapped, life goes on.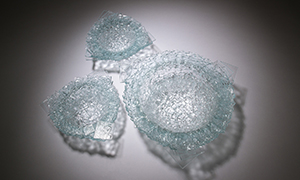 Jane Trinder, Glass Ice 2015, kiln-formed glass
I am drawn to multiplicity as displayed in Nature, the splendour is in its irregularity such as the coat of a Zebra. I hoped to create a delicate overlapping rhythm, with an ice like effect as light is captured, to glisten with an undulating blue hue.
Construction was an instinctive rhythmic loose stacking of inexact glass squares balanced against a steel dome, each tile making contact at some point fusing softly with a precise interior to contrast with the exterior.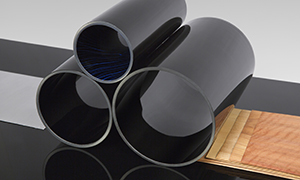 John White, Roll the Presses 2015, blown glass, wood, metal and cold-worked
Roll the Presses is infused by the wonders of invention, discovery and history. Looking at the world through the eyes of the printing revolution, this piece extracts the simplicity of the cylindrical printing mechanism to reveal the constant movement of imbedded history. This work draws on my experience as a young child, walking with my father into his work place. Holding his hand walking through a massive printing room at the Canberra Times newspaper; overwhelmed by the smell of ink, enormous rolls of paper, the loud chattering and clunking noise of 15 Linotype machines.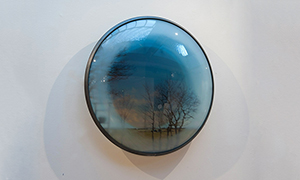 Melinda Willis, Resonance IV 2015, kiln-formed and cold-worked glass, assembled
Through its ability to compress, reflect, and reinterpret space, 'float' glass has had a tremendous impact on the way we interact with, and observe our surroundings. Resonance IV investigates and highlights the qualities of this fascinating, and ubiquitous building material in modern architecture; and examines how it can alter our perceptions of the environment around us.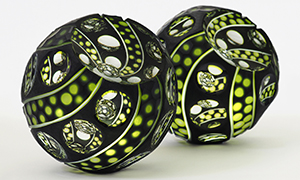 Zoe Woods, Coriolis Pair 2015, blown glass, wheel cut
Coriolis Pair alludes to the fantastic and exotic worlds of microscopic and marine nature. By utilising the distortive and reflective qualities of thick blown glass, a floating world is encapsulated within each piece, a pattern of microscopic symmetry reflected on an internal bubble. I hope that the work provokes the same feeling of wonder and discovery that is felt upon delving deep into the sea or looking at nature through a microscope lens.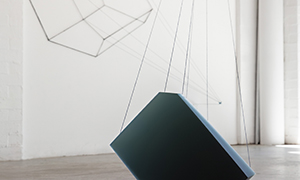 Madisyn Zabel, Scale 2015, cast glass, string, nails, metal
This work investigates the dynamic relationships between three-dimensional objects and their two-dimensional representation, and the growing dialogue between Craft and digital technology. Using geometry as a starting point, Zabel creates illusions of depth and flatness in glass and mixed media compositions. Her work explores the role of perception, and seeks to engage her audience in questioning the relationship between two and three-dimensions. The display of the work activates this engagement, as volumes and forms change with the shifting vantage point of the viewer.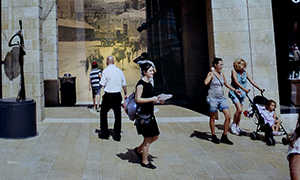 Sary Zananiri, Mamilla from the West 2015, direct print on glass, Radiata pine
The Mamilla series is part archival study, part architectural critique taking Jerusalem's tumultuous modern histories as its starting point. It focuses on what was the city's major commercial district – Mamilla Rd, untangling the legacy of the city's expansion in 19th Century, through the events of the Nakba in 1948 and its radical re-envisioning this century, it attempts to question the hagiographic narratives that plague this pivotal space within the contested urban fabric of a fragmented city.