A Secret History of Blue and White
Main Gallery: 25 April - 8 June 2008


A Secret History of Blue and White on display at Wagga Wagga Art Gallery, 2008

Whether it's a childhood memory of our grandmother's precious porcelain cabinet, or recollections of travels to Asia or Europe, most of us have a connection to the blue and white ceramic tradition. A Secret History of Blue and White: Contemporary Australian Ceramics showcases the ingenious work of five prominent Australian contemporary artists reinterpreting this age-old style: Robin Best, Stephen Benwell, Bronwyn Kemp, Vipoo Srivilasa and Gerry Wedd.
The potency and historical weight of blue and white ceramics is common to almost every culture, be it through the leaping fish patterns of Asia or the delicate willow of Europe. A Secret History of Blue and White subverts our preconceived notions by applying a contemporary edge and taking this classic practice to a completely new and exciting realm.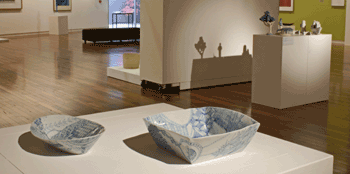 A Secret History of Blueand White on display at Wagga Wagga Art Gallery, 2008

A Secret History of Blue and White is an Asialink and JamFactory Contemporary Craft and Design exhibition toured nationally by Object Gallery.
Object: Australia Centre for Craft and Design is supported by the Visual Arts and Craft Strategy, an initiative of the Australian, State and Territory Governments. Object is assisted by the New South Wales Government - Arts NSW, and the Australian Government through the Australia Council, its arts funding and advisory body.






Opening
When: Friday, 9 May 2008, 6.00-8.00pm
Where: Wagga Wagga Art Gallery
Cost: Free