ArtExpress 2007
Main Gallery: 23 August - 26 October 2008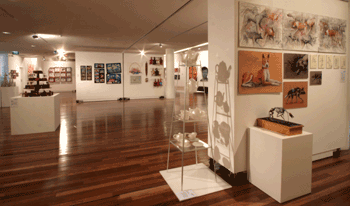 ArtExpress 2007 on display in the Main Gallery, 2008

2008 marks the twenty-fifth anniversary of ArtExpress, an exhibition of outstanding artworks created by HSC Visual Arts students from schools across metropolitan and regional New South Wales. This edition of the touring exhibition showcases the work of 63 students, including eleven from the Riverina region, selected from 9283 students submitting a body of work for the 2007 HSC examination. It includes a broad range of approaches and expressive forms, including ceramics, collection of works, drawing, painting, photography, printmaking, sculpture and video.
ArtExpress 2008 explores many themes and concepts that are closely linked to the students' direct experiences. Some bodies of work bring with them an element of pleasant surprise and a whimsical take on life. Others explore more serious concerns regarding social issues and how they impact on the life of the teenager. Identity is a strong running theme throughout the exhibition: for anyone who knows a teenager, this is no surprise! And of course, this is also one of the great themes of western art history and contemporary art practice. As such, the impact of contemporary and historical artists who students have researched filters through and onforms, inspires and motivates their body of work in this exhibition.

Toured by the Art Gallery of NSW.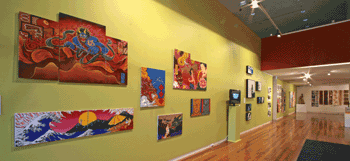 ArtExpress 2007 on display in the Main Gallery, 2008

Opening
When: Saturday 30 August 2008, 3:00 - 5:00pm
Where: Main Gallery
Cost: Free