Crossfire: print & glass
Main Gallery, National Art Glass Gallery, Margaret Carnegie Gallery: 2 May - 27 July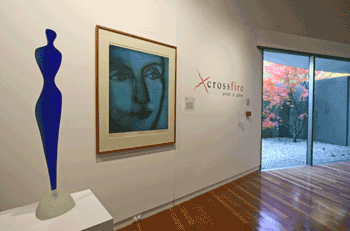 Sallie Portnoy, Blue Lady, cast glass; Barbie Kjar, Lustre, 2003, drypoint relief print, on display in the Main Gallery, 2008

Crossfire is a ground-breaking exhibition which highlights a multitude of connections between the mediums of print and glass. It calls on examples from Wagga Wagga Art Gallery's two renowned collections, the National Art Glass Collection and the Margaret Carnegie Print Collection, to illustrate and tease out the links.
Spanning both the main gallery spaces and the National Art Glass Gallery, Crossfire is an attempt to look at these collections in cross-disciplinary and innovative ways, breaking down the barriers between media and incorporating creative methodologies. Crossfire includes artists who work across both media, artists who have responded creatively to other works, processes such as etching and engraving common to both media, and pairings of prints and glass with thematic and conceptual resonances.
Crossfire also highlights many of the most prominent artists in both the Gallery's collections, and includes a focus on Indigenous primaking and glass. This exhibition provides a wonderful opportunity to look at the collections in new ways and with fresh eyes, and to reveal some of the less well-known connections with artworks and artists.
Crossfire is accompanied by a 60-page, full-colour catalogue, with contributions by Cath Bowdler, Dr Sasha Grishin and Margot Osborne: this invaluable introduction to the Gallery's collections is available for purchase from the Gallery Shop.
A Wagga Wagga Art Gallery Initiative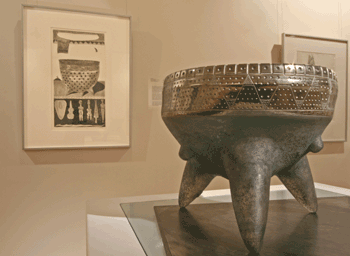 Brian Hirst, Cycladic series II, 1986, engraving; Votive bowl and shadow plate, 2003, blown, cast, engraved glass, engraved stainless steel, on display in the Margaret Carnegie Gallery, 2008

Opening
When: Friday 9 May 2008, 6:00 - 8:00pm
Where: Wagga Wagga Art Gallery
Cost: Free