Essence and Spontaneity
National Art Glass Gallery: 24 January - 12 April 2008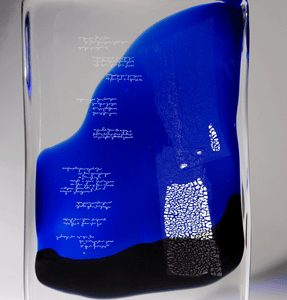 Wolfgang Mussgnug, Cifra dell esistenza, 2007, hotworked and engraved glass (detail)

As part of Wagga Wagga City Council's sister city cultural exchange, Wolfgang Mussgnug, an internationally renowned glass artist living in Nordlingen, Germany, presents a collection of recent art glass and drawings at the National Art Glass Gallery. Although he lives in Nordlingen, Wolfgang travels regularly to the famous Zanetti glassworks in Murano, Venice, to create his pieces; this, however, is the first time he has exhibited in Australia, in an extraordinary assemblage of breathtaking glass.
Essence and Spontaneity, comprising thirty glass pieces, captures both the strength and light at the core of glass work, but also the delicacy and exuberance of the colours. These pieces are hot formed: worked directly at the furnace with a blowpipe, a difficult and exacting glassmaking process. The exhibition also features a number of drawings, related to the glass but also standing independently as artworks and exploring the artist's concern with mark-making and text - an important part of all Wolfgang's works. Both drawings and glass pieces are inscribed with various 'scripts': these are not legible texts, but marks that allow the viewer to create their own stories for the work.

A Wagga Wagga Art Gallery Initiative.