Junctions
E3 art space: 10 - 23 November 2008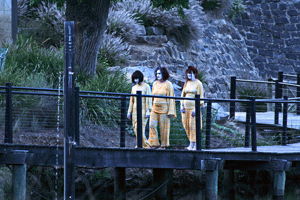 Opening night performance, 14 November 2008

Three local artists have come together to present Junctions, the latest exhibition in the E3 art space at Wagga Wagga Art Gallery. Canny Kinloch, Janine Agzarian and Melanie Evans have worked together as colleagues and fellow artists for many years, and Junctions is the result of their creative journeys.
The artists have explored many different artforms, including photography, film, printmaking and performance, and they have also explored different aspects of their own lives. Melanie Evans looks at the heritage of her grandmothers, one Aboriginal and one of English ancestry, born in Australia; Janine Agzarian illustrates her researches into her grandfather's experience in World War I; and Canny Kinloch recreates her own childhood in Scotland through symbols and images.
Junctions will open on Friday, November 14 with a performance of butoh, the Japanese conceptual dance style. This exhibition is the result of many years of collaboration and friendship, and provides a space in which these artists reflect upon the fruits of their journeys together.