Plenty: Indigenous prints from the Margaret Carnegie Print Collection
Margaret Carnegie Gallery: 7 November 2008 - 30 January 2009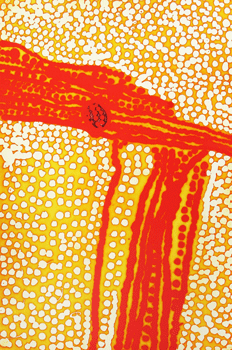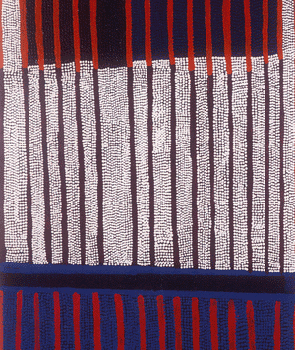 Left to right: Ningie Nangala, Lirrwarti, 2007, etching; Boxer Milner, Purkitji, 2007, etching

The notion of Plenty, in this context, refers to abundance, bounty and profusion. It is a word that can apply to the fecundity, both literal and cultural, as depicted by a number of artists in this exhibition. It also conjures up the notion of multiplicity, a state inherent to the printmaking process.
This exhibition of Indigenous prints highlights a number of recent acquisitions to the Margaret Carnegie Print Collection, along with a number of works which have been donated to the Collection through the Australian Government's Cultural Gifts Program. This recent bounty has increased the Indigenous representation in the Collection considerably and filled an important gap. These days, no collection that purports to be a significant collection of contemporary Australian prints could exclude Indigenous printmaking. The concerted effort by Wagga Wagga Art Gallery to acquire Indigenous prints in 2007 and 2008 helps to redress this gap and to acknowledge a key trend in Australian printmaking.
The works on display in Plenty graphically illustrate the diversity of worldviews and styles that flourish throughout Indigenous communities across Australia. The exhibition captures a multiplicity of views and lives, showcasing the many voices and responses of Indigenous artists. It features a host of major artists such as Kathleen Petyarre, Ian Abdulla, Judy Watson and Arone Raymond Meeks. Highlights from the abundance on display include the classic styles of Arnhem Land, represented by David Malangi, alongside the dot works of the central desert and the works of Balgo artists Lucy Yukenbarri and Boxer Milner. A key work in the show is the screenprint Witchetty dreaming by the late Paddy Carroll Tjungurrayi, which, created in 1981, is one of the earliest prints by a major Indigenous artist.
A Wagga Wagga Art Gallery Initiative
Plenty: Catalogue p1 (100KB)
Plenty: Catalogue p2 (394KB)

Opening
When: Friday 7 November 2008, 6:00 - 8:00pm
Where: Margaret Carnegie Print Gallery
Cost: Free