Graham Cossey: Portraits of Ariah Park
The town of Wowsers, Bowsers and Peppercorn Trees
Links Gallery: 7 - 30 August 2009


Portraits of Ariah Park on display in the Links Gallery, 2009

A unique perspective on the towns of the Riverina region is uncovered in Graham Cossey's Portraits of Ariah Park: The town of Wowsers, Bowsers and Peppercorn Trees. This affectionate look at one of the region's most charming and characteristic settlements features a suite of paintings exploring aspects of the town's life and environments, as well as one of the vintage petrol bowsers installed along Ariah Park's main street.
Dr Max Staples, senior lecturer in Art History at Charles Sturt University, states in the exhibition catalogue:
Cossey paints with affection for the detritus of rural life and what it says about the people who have lived there. From physical things, the buildings and objects that are used, then retained or abandoned, it is perhaps possible to construct a reliable narrative of a place and its people.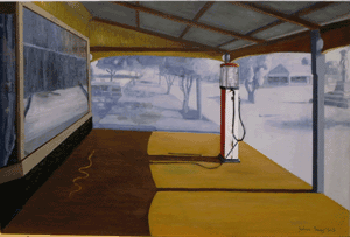 Graham Cossey, AP3, 2009, oil on canvas

Opening
When: Saturday 8 August 2009, 2:30-4:00pm
Where: Links Gallery
Cost: Free