Hooked on Books
The Albert Ullin Collection of Children's Picture Book Illustrations
Margaret Carnegie Gallery: 5 May - 21 June 2009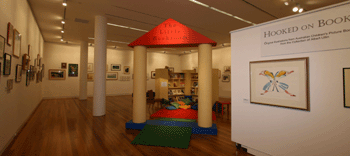 Hooked on Books on display in the Margaret Carnegie Gallery, 2009

Original illustrations from Australia's most loved children's books are on display in an exhibition sure to delight all booklovers young and young at heart. Hooked on Books: The Albert Ullin Collection 1974-2009 showcases leading contemporary illustrators acquired over the past thirty years by Albert Ullin, the founder of Melbourne's famous specialist children's bookstore, 'The Little Bookroom'.
Hooked on Books is curated by Jacqueline Taylor OAM, and presented and managed by OzLink Entertainment. The exhibition features works by well-known and well-loved Australian illustrators such as May Gibbs, Bob Graham, Leigh Hobbs, Robert Ingpen and Alison Lester, to name just a few. Hooked on Books also includes a small 'Little Bookroom' of its own: a space where children can read or be read to, mimicking the original specialist bookshop opened in the 1960s. As part of the exhibition, this room will provide a quiet space with a 'please touch' section of selected, well-known books featured in the exhibition.
Collection owner Albert Ullin is a former president of the Children's Book Council of Australia, a recipient of the Dromkeen Medal for services to children's literature, and received the Medal of the Order of Australia in 1997. Ullin began acquiring the works in the late 1970s, when he became aware that young illustrators of picture books were struggling to make a living: the birth of a collection that continues to grow and grow!
The Hooked on Books exhibition is presented, curated and managed by OzLink Entertainment.


Opening
When: Monday 18 May 2009, 4:00- 6:00pm
Where: Wagga Wagga Art Gallery
Cost: Free