Momentum: 18th Fibre Textile Biennial 2008
Main Gallery: 7 August - 27 September 2009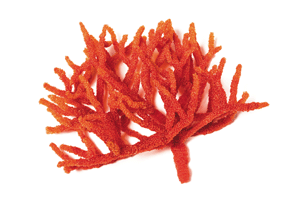 Melissa Hirsch, Red/Orange Staghorn Coral, 2006, fishing line

Since the early 1970s, the Tamworth Fibre Textile Biennial has continued to provide audiences with an exciting survey exhibition of contemporary achievements in this vibrant field. Artists from across Australia have been selected to participate in the latest, eighteenth edition of the Biennial, Momentum, which provides an amazing insight into the diverse strands of textile art all over the country.
Momentum's curator, Valerie Kirk, is the head of Textiles at the Australian National University School of Art, and has put together an exhibition that looks at the influences new technologies have had on traditional fibre textile practice, and how these artists have, individually, incorporated new techniques.
This is an exciting exhibition of new works that push the boundaries of traditional practice. There is an interesting mix of emerging and established artists, all with fresh ideas and new approaches, and audiences will be pleasantly surprised at what they discover. Artists and groups featured in Momentum include Christine Atkins, Babbarra Designs, Jane Bowden, Alana Clifton-Cunningham, Annabelle Collet, Fiona Gavino, Robyn Glade-Wright, Hilary Green, Mandy Gunn, Cecilia Heffer, Melissa Hirsch, Liz Jeneid, Jill Kinnear, Kelly Leonard, Rodney Love, Penny Malone, Elisa Markes-Young, Lucille Martin, Vicki Mason, Ainslie Murray, Debra Porch, Louise Saxton, Demelza Sherwood, Annie Trevillian and Elefteria Vlavianos.
A Tamworth Regional Gallery exhibition toured by Museums and GalleriesNSW.
This exhibition is supported by Visions of Australia, an Australian Government program supporting touring exhibitions by providing funding assistance for the development and touring of Australian cultural material across Australia.