Natural Selection: Keith Sterling & Robyn Wood
E3 art space: 22 October - 1 November 2009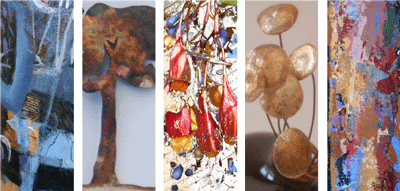 Left to right: Robyn Wood, The Farm, acrylic on canvas (detail); Keith Sterling, Trees - boxed set, fine silver and wood (detail); Robyn Wood, Le Jardin, transfer on Fabriano academia (detail); Keith Sterling, Fungi, fine silver, copper, tree branch (detail); Robyn Wood Trees - Red, acrylic on canvas (detail)

An enthralling exhibition exploring the wonders of the natural world, Natural Selection features work in a wide variety of different media by local artists Keith Sterling and Robyn Wood. Both artists have been inspired by their lifelong connection to nature and the beauty that can be found in every environment.
Keith Sterling's work focuses on sculptural pieces and jewellery, delicate and expressive combinations of silver and wood that evoke the pleasure of their creation as much as the vulnerability of their subjects. A major source of inspiration for Keith's work has been the natural beauty and fragility of native plant forms, and he has used a wide variety of materials to explore this theme.
Robyn Wood's work in Natural Selection includes paintings on canvas and other media, a range of pieces in different forms that drawn upon our relationship with and the environment that surrounds and sustains us. Robyn aims in her work to illuminate the viewer's sense of connection the strength and beauty of nature.

Opening
When: Friday 23 October 2009, 6:00-8:00pm
Where: E3 art space, Wagga Wagga Art Gallery
Cost: Free
Natural_Selection_-_Exhibition_invitation_2009.pdf (570KB)