The Glass Percussion Project
Elaine Miles and Eugene Ughetti
National Art Glass Gallery: 3 April - 21 June 2009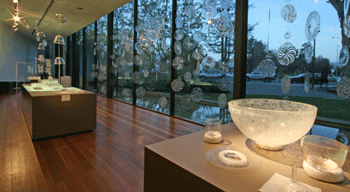 The Glass Percussion Project on display in the National Art Glass Gallery, 2009

The Glass Percussion Project is an initiative directed by glass artist Elaine Miles and percussionist/composer Eugene Ughetti, featuring up to 1000 hand blown glass objects creating an innovative sound and light installation. Elaine is an installation artist, notable for creating large scale installations that incorporate glass, sound and lighting, inspired by contemporary and conceptual art; percussionist and composer Eugene Ughetti makes a significant contribution to experimental and contemporary new music. Both artists have extensive experience, nationally and internationally, in presenting solo and collaborative exhibitions and performances.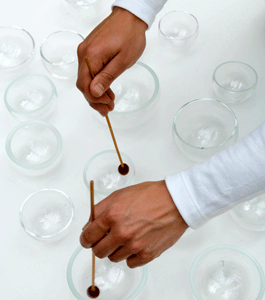 Glass Percussion Project performance, December 2008 (detail)
The Glass Percussion Project is supported by GALLERY focusED 2008, proudly sponsored by Bluescope Steel and ConnectEd Arts, the NSW Government Arts Education Strategy.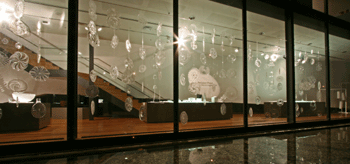 The Glass Percussion Project on display in the National Art Glass Gallery, 2009

Opening
When: Wednesday 8 April 2009, 6:00- 8:00pm
Where: Wagga Wagga Art Gallery - National Art Glass Gallery
Cost: Free

Performance
When: Wednesday 13 May 2009, 7:00pm
Where: National Art Glass Gallery, Wagga Wagga Art Gallery
Cost: Adults $10; Friends of the Gallery, students, children & pensioners $8