The Kerfoot Collection
National Art Glass Gallery: 26 June - 27 September 2009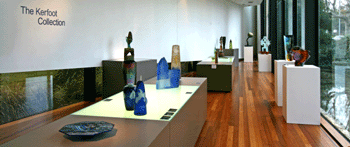 The Kerfoot Collection on display in the National Art Glass Gallery, 2009

The Kerfoot Collection of Australian studio glass was begun in the late 1970's, and has gradually expanded to over 150 works. Many of Australia's leading glass artists are represented by well chosen pieces which resonate beautifully with works of the National Art Glass Collection. This selection of works from the Kerfoot Collection reflects a passion for the art glass movement and the discerning eye of the collector.
Joyce Kerfoot (born in Sydney, 1917) has had a long association with Wagga Wagga and also with art, both of which have led to her collecting works of art glass and the formation of the Kerfoot Collection. In the late 1940s, Joyce was one of the founding members of the Wagga Wagga Art Society, and she actively participated in their activities until 1958, when the Kerfoot family left Wagga Wagga for Melbourne. In 1977 her interest in glass began when she first acquired a piece of blown glass from the Jam Factory in Adelaide.
The studio art glass movement in Australia was still in its infancy at this time, and early on Joyce was able to purchase works at affordable prices by the pioneers of the movement. She purchased two of Sam Herman's works at a visit to his exhibition, and seeking out other glass exhibitions in Melbourne, found works by Denis O'Connor and Klaus Zimmer at the then Caulfield Institute of Technology (now Monash University).
Joyce returned often to Wagga Wagga, as her 'home town', and was delighted when Wagga Wagga Art Gallery, in the early 1980s, made collecting Australian studio art glass one of its primary missions. She attended many of the major early glass exhibitions here, and purchased some small pieces on occasion, propelled by the excitement and enthusiasm of the artists.
Back in Melbourne, Joyce also continued to attend exhibitions and revelled in new ideas or new phases of an artist's development, feeling an empathy with the glass and its creators. Exercising judgement as to which pieces to purchase became important to her. In the early days, artists of particular interest were the pioneers: Rob Knottenbelt, Warren Langley, Tony Hanning, Stephen Skillitzi, Julio Santos, Richard Clements, Nick Mount and Gerry King. Personal connections were made with a number of these artists, resulting in more acquisitions.
Joyce is still an active art glass collector to this day; the opportunity to pay tribute to the passion and expertise of this devotee of the medium is greatly appreciated by Wagga Wagga Art Gallery.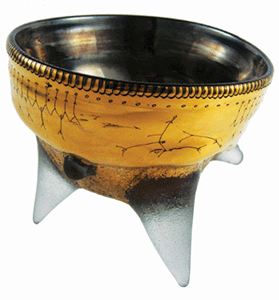 Brian Hirst, Hunting and gathering bowl, 1982, cast and blown glass, gold lustre, engraving

Opening
When: Friday 3 July, 6:00 - 8:00pm
Where: National Art Glass Gallery
Cost: Free