Wagga Wagga Art Society: Let's Celebrate!
60th Anniversary
Links Gallery: 31 March - 4 May 2009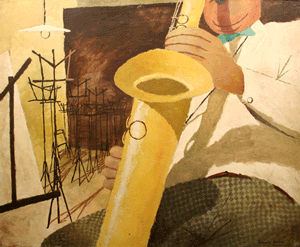 Ronald Kirk, The blue tie, 1957, acrylic on board (Wagga Wagga Art Society Collection)

Since 1949, the Wagga Wagga Art Society has been delighting the community with exhibitions, classes, lectures and many other creative endeavours. Now the Society is commemorating six decades of activities with an anniversary exhibition, Let's Celebrate!, in the Links Gallery.
The Art Society has been a key driving force in the development of Wagga Wagga's artistic and creative community since its inception in the late 1940s. While many locals may be most familiar with the Society's regular exhibitions of members' work, throughout its history the Society has also helped organise many exhibitions and lectures by visiting artists. These have included some of the most prominent names in Australian art, such as John Olsen, Margaret Olley, James Gleeson and Elwyn Lynn. The Art Society's Studio in its various locations has hosted countless lectures, tutorials and workshops.
The Art Society has also built up a substantial collection of artworks over the past sixty years, much of it purchased through annual prize exhibitions. These formed the nucleus of the collection of Wagga Wagga Art Gallery in the early 1970s, and several of these works will be on display to illustrate the history of the Society, along with memorabilia and, of course, recent works by over fifty of the Society's members. The Gallery is itself commemorating its tenth annivversary in its current home in the Civic Centre, and together the Art Gallery and the Art Society look forward to many more decades - so Let's Celebrate!

Opening
When: Friday 8 April 2009, 6:00- 8:00pm
Where: Wagga Wagga Art Gallery
Cost: Free