Yarra: Say, Speak, Tell
Main Gallery: 5 June - 2 August 2009


Yarra: Say, Speak, Tell on display in the Main Gallery, 2009

Yarra, a Wiradjuri language word meaning Say, Speak or Tell, is an exhibition that explores Aboriginal culture by storytelling, and sharing knowledge through artworks that honour Indigenous families and ancestry. Yarra features works by prominent established and emerging Indigenous artists from the Riverina region, including Treahna Hamm, Roy Kennedy, Wesley Morgan and Robert Murray.
Although Indigenous culture in the Riverina region was decimated in the nineteenth century, the artists in Yarra can be seen as part of an ongoing retrieval and revival of cultural traditions, manifested in new media and in a contemporary context. Artist Treahna Hamm states that 'art... supports dialogue and helps people to heal, by creating bonds between individuals and communities, through the linking of identity, people and places. Telling our stories and making our art regenerates the past, the present and the future.'
Indigenous culture in the Riverina continues to be rich and full of stories that can be told through art. The artists whose works are displayed in Yarra portray, through their very different artforms, the connection to culture that is never lost and continues to evolve using new and exciting mediums.
Yarra: Say, Speak, Tell has been curated by Melanie Evans with assistance from Cath Bowdler (Manager, Wagga Wagga Art Gallery), Linda Elliott (Curator, Education & Public Programs, Wagga Wagga Art Gallery), the Wiradjuri Elders and the Wagga Wagga Indigenous Community. The exhibition is part of Mawang (Altogether) - Celebrating Indigenous Culture, Wagga Wagga City Council's winter cultural festival.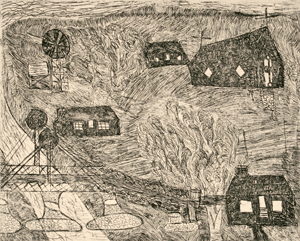 Roy Kennedy, Our bridge on the Murrumbidgee, 2003, etching

Opening
When: Friday 5 June 2009, 6:00- 8:00pm
Where: Wagga Wagga Art Gallery
Cost: Free