Beneath the skin
Works from the Margaret Carnegie Print Collection
Margaret Carnegie Gallery: 6 August - 3 October 2010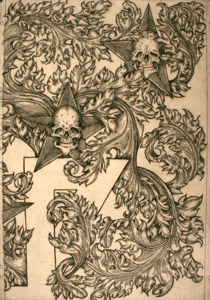 eX de Medici, United spectre #3 (5). 2007, etching

A chilling and challenging exhibition of prints and photographs, Beneath the skin features works from the Margaret Carnegie Print Collection alongside recent photography by local Riverina artists Chris Orchard and Kimberley Camilleri, delving into the physical and psychological realms of mortality and the frailty of the body.
Across all the media of contemporary art, the awareness of mortality, of ageing and passing away, is a constant subject. While some of these works my be disturbing and even confronting, their reiteration of memento mori, 'remember you must die', follows in the footsteps of artists throughout history.
Beneath the skin includes prints by well-known Australian artists including Arthur Boyd, Susan Norrie and ken Unsworth. The exhibition also features several recent acquisitions to the Wagga Wagga Art Gallery collection, such as works by Alison Alder and eX de Medici. Several different interpretations of the idea of 'what lies beneath the skin' are on display, from the literal, physical depiction of flesh and bone to the exploration of nightmarish psychodrama.

A Wagga Wagga Art Gallery Initiative