National Student Art Glass Prize
National Art Glass Gallery: March 12 - June 6, 2010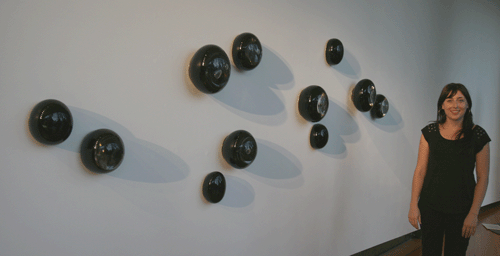 Belinda Toll (Australian National University), winner of the Inaugural National Student Art Glass Prize with her work Time contained, 2009

The inaugural winner of the National Student Art Glass Prize was announced at the official launch of the Prize exhibition on Friday evening, 12 March, by Kay Hull MP, Federal Member for the Riverina. A crowd of patrons of the arts and glass enthusiasts gathered in front of the National Art Glass Gallery as the Prize was awarded to Belinda Toll from the Australian National University for her work Time contained, an exploration of the notion of memory.
The National Student Art Glass Prize is an exciting new initiative developed by Wagga Wagga Art Gallery. The prize is an acquisitive, biennial national competition established to reward and promote innovation and excellence in contemporary glass within the student sector. The exhibition showcases and fosters the most outstanding student work from around Australia.
Follow Belinda on her study tour of North Lands Creative Glass in Scotland: Belinda's Blog

People's Choice Award
Visitors are invited to pick their favourite piece for the People's Choice Award, which will be drawn at the end of the exhibition. Cast your vote when you visit the National Student Art Glass Prize for the chance to win your own piece of art glass, a vase by Grant Donaldson from the Gallery Shop!
Official Launch
When: Friday 12 March 2010, 6:00 - 8:00pm
Where: National Art Glass Gallery, Wagga Wagga
Cost: Free


Visitors enjoying the official launch celebrations

A Wagga Wagga Art Gallery Initiative