Strike a Pose... with Lee Lin Chin
Margaret Carnegie Gallery: 8 October - 12 December 2010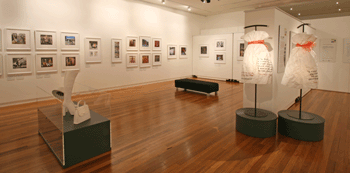 Strike a Pose... on display in the Margaret Carnegie Gallery, 2010

Come take a trip back in time to the golden years of Australian fashion, where trends of the 1960s and 1970s have taken centre stage in Strike a Pose... with Lee Lin Chin, an exhibition of fashion photography from the National Archives of Australia. With fashion icon and SBS World News presenter Lee Lin Chon as guest curator, this exhibition celebrates the emergence of our national fashion industry, along with its personalities, trends and influences.
A mix of miniskirts, space-age garments and granny dresses, Strike a Pose... features shots from magazine spreads alongside the exuberance of street culture, capturing the essence of a period when cultural exchange ruled. Take a look - you might find a few familiar pieces, or even a skirt or shirt that's still in your own wardrobe!
Strike a Pose... also includes photographs taken by Australian Government photographers during the 1960s and 1970s to promote the burgeoning Australian fashion industry and the Australian lifestyle overseas. "These pictures are not about art," writes Lee Lin Chin in her introduction to the exhibition. "They are not even just about fashion because, from today's perspective, they've recorded a transcendent historical moment when nothing was going to be the same again."

Angels in orbit 1969, photographic reproduction

A National Archives of Australia touring exhibition