Denis O'Connor: Adrift
Main Gallery: 16 September - 20 November 2011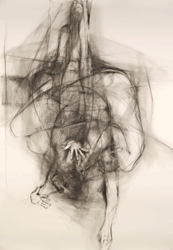 Denis O'Connor, Endless dream, 2004, charcoal on paper

For twenty years, Denis O'Connor has been exploring the possibilities of the human figure through drawings in a wide range of media, from charcoal and ink on paper to paint on canvas. Now, in Adrift, O'Connor presents a survey of these two decades of work, a unique opportunity to witness the evolution of the artist's creative practice on display at Wagga Wagga Art Gallery.
Adrift features works drawn from public and private collections alongside Denis O'Connor's own archive of studies and portraits, ranging from intimate sketches on paper to large, monumental canvases. The expressive potential of the human is stretched to new limits of line and tone, shade and motion, and strong dark gestures are balanced against billowing curves. Up close, the viewer is drawn in by the concrete force of O'Connor's use of material - charcoal, graphite, ink; while stepping, the relationships between works, the lessons learned and passed down, echo from wall to wall.
A Wagga Wagga Art Gallery Initiative.
Opening
When: Friday 23 September, 6:00 - 8:00pm
Where: Wagga Wagga Art Gallery
Cost: Free
Lunchtime Lecture
When: Wednesday 19 October, 12:00 midday - 1:00pm
Where: Wagga Wagga Art Gallery
Cost: Free