Eggyday Objects
Gallery Shop: 1 April - 1 May 2011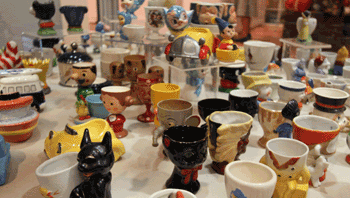 Eggcups from the collection of Lisa Faulkner, on display in Eggyday Objects at the Gallery Shop, 2011

This quirky community-based exhibition, curated by Mardi Holcombe, features eggcups and associated egg-quipment from households throughout the Riverina. Rare, unusual, or just for fun - Eggyday Objects is a chance for visitors to the Gallery Shop to take a peek into their neighbours' kitchens!
A highlight of this exhibition is the opportunity to see eggcups from one of the Riverina's most intriguing collections. Lisa Faulkner began collecting eggcups and associated paraphernalia in 2000. Her collection contains eggcups dating from the early nineteenth century through to contemporary designs. Over the past ten years it has grown considerably, and now houses more than three and a half thousand items.
A Wagga Wagga Art Gallery Initiative.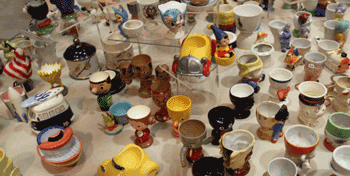 Eggcups from the collection of Lisa Faulkner, on display in Eggyday Objects at the Gallery Shop, 2011