Kevin Gordon

Kevin Gordon, Urchin in blue, 2010, hand blown, inside cased transparent teal, diamond wheel cut and brush polished glass

Born in Norway in 1968, Kevin was similarly inspired by his parents and started working in glass at an early age. Largely self-trained with Alasdair's guidance, Kevin's skills and techniques have evolved at an amazing rate. He worked with architectural glass until 1995 and since then as a highly respected glass artist in collaboration with glassblowers, including his sister.
It is not surprising that Kevin's preferred technique is engraved cameo glass which has so inspired his father. Cameo glass was popular in nineteenth century France and is used by few glass artists because of its technical complexity and lengthy production time. Kevin's works are unique and evocative. He fuses layers of glass with engravings and incised lenses to trap and transmit light and colour. The prisms are influenced by fractals and the 'Mandelbrot Theory' where the image is composed of smaller reflections of the whole.
Similar to Grant, Kevin's work is a journey - an exploration of colour, optical movement, and light. The closer you look, the more readily you see elements repeating in the same way cycles recur in nature - ferns and trees growing, ice forming on a window pane. His work has received many awards and has been very widely exhibited internationally.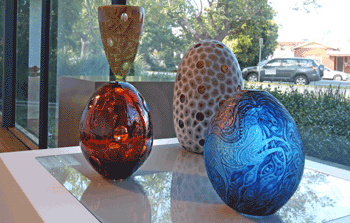 Works by Kevin Gordon on display in Glass Shadows at the National Art Glass Gallery, 2010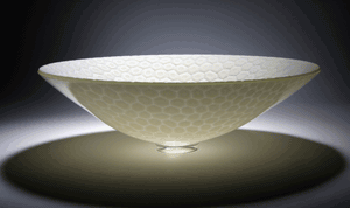 Kevin Gordon, Barnacle, 2010, hand blown, inside cased opal cream, sand and hand carved