Goya: Los Caprichos
Margaret Carnegie Gallery: 3 June - 17 July 2011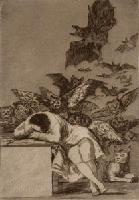 Francisco Goya, The sleep of reason produces monsters, 1797-98, etching and aquatint

Los Caprichos, a set of eighty etchings by iconic Spanish artist Francisco Goya, is one of the most influential series of graphic images in the history of Western Art. Inspiring and confronting, its subhuman cast includes goblins, monks, aristocrats, prostitutes and animals.
Francisco Jose de Goya y Lucientes (Spain 1746 - France 1828) is recognised as a key figure both in the art of his time and in the birth of modern European art. Appointed as court painter in 1786, his portraits of the royal family and Spanish nobility combine great skill with an unusual realism and avoidance of visual flattery. In the early 1790s, an unknown illness left Goya deaf and contributed to his withdrawal from society; alongside his official portraiture, his work began to include darker and more experimental paintings and drawings.
It is from this later period that the series of etchings known as the Caprichos or 'Caprices' emerged: published as an album in 1799, they were withdrawn from sale shortly after their release. In 1803, the unsold prints and their plates were given to the Spanish crown; after Goya's death in 1828, several further editions were published from these plates during the nineteenth and early twentieth centuries.
Alongside the anticlerical undertones of many of the individual works in the Caprichos, which according to Goya himself, attracted the unwanted attention of the Inquisition and hence prompted the series' withdrawal from sale, many other groups in contemporary Spanish society come under fire. The incompetence of the governing classes, the decline in sexual and financial morality, and the creeping domination of superstition throughout all sectors of the country, and indeed of humanity as a whole, are all highlighted with biting satire in these dark and brooding works.
An exhibition curated from the Albury City Collection.

Andy Totman (Head of Art & Design, TAFE NSW Riverina Institute - Wagga Wagga Campus) discusses Goya's techniques of etching and printmaking.
When: Wednesday 15 June 2011, 12:00midday - 1:00pm
Where: Margaret Carnegie Gallery, Wagga Wagga Art Gallery
Cost: Free