Greetings from Aggaw Aggaw: Justy Phillips & Margaret Woodward
Links Gallery: 29 July - 25 September 2011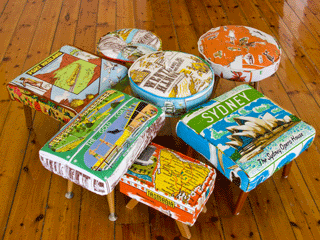 Justy Phillips & Margaret Woodward, The way life should be 2009, vintage souvenir linen, recycled mid-century footstools (installation view, Linden Gallery 2009)

An ambitious, long-term collaborative project between artists Justy Phillips and Margaret Woodward, Greetings from Aggaw Aggaw explores the realities and representations of contemporary Australian culture and society through artefacts of travel, tourism, experience, truth and fiction.
Greetings from Aggaw Aggaw draws together many different aspects of these Riverina-based artists' individual practices. Margaret Woodward's current practice focuses on the interpretation of Australia's natural and cultural heritage, and the mapping of contemporary language and heritage through tourism ephemera. Justy Phillips, through her text-based works, examines the diversity and complexity of human relationships and raises questions about the marginalisation of individuals and communities within society.
For the last two years, the artists have been sourcing hundreds of vintage souvenir tea towels and other tourist ephemera, collected from towns all over Australia. Aggaw Aggaw is the result - a mash-up of every destination you've ever dreamed of visiting, where seventies kitsch meets desert island fantasy. Summer, sand, sea and sun - come sail away to Aggaw Aggaw!
Artists' Walkthrough
Join Justy and Margaret for a 'behind the scenes' tour of Greetings from Aggaw Aggaw.
When: Saturday 3 September, 11:00am-12:00midday
Where: Links Gallery, Wagga Wagga Art Gallery
Closing Down Souvenir Sale
Pick up a bargain: mementos of your visit to Aggaw Aggaw are on sale, and all items must go!
When: Friday 23 September, 6:00-8:00pm
Where: Links Gallery, Wagga Wagga Art Gallery