Growl: Backyard, farmyard and beyond
Main Gallery: 25 November 2011 - 8 January 2012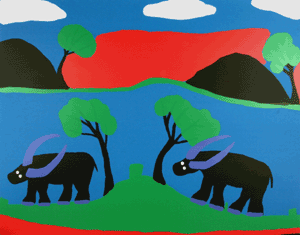 Amy Jirwulurr Johnson, Buffalo, 2002, screenprint

Unleash your inner animal and explore a menagerie of beasts from Wagga Wagga Art Gallery's two great collections: the Margaret Carnegie Print Collection and the National Art Glass Collection. Growl ranges from the backyard's cats and dogs, to the farmyard's cows and sheep, and even further beyond, to the wild hills and jungles!
Growl features works in print and glass by many of Australia's most well-known artists, including Charles Blackman, Barbara Hanrahan, Rish Gordon and Andrew Margalulu. Co-curated by Wagga Wagga Art Gallery's Sue Clancy and Wagga Wagga Public School's Zofi Halyday, the exhibition also includes poems and prose by writers throughout the centuries, all drawing for inspiration upon the wonderful world of animals that surrounds us.
A Wagga Wagga Art Gallery Initiative.