Julia Davies: Elements
E3 art space: 29 September - 9 October 2011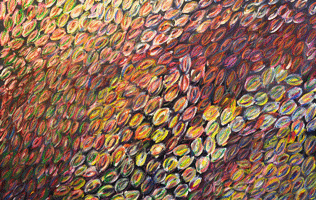 Julia Davies. Followers, 2009, acrylic and oil pastels on canvas (detail)

Local artist Julia Davies celebrates the remarkable vast environment of the Riverina in Elements, a reflective series of abstract landscape paintings. Using Indian pigments, acrylic and collage on canvas, Julia Davies has explored the fundamental artistic elements of colour, form and material, capturing a transitory meeting between chance and considered application.
A graduate of Sydney College of the Arts, Julia Davies is currently Regional Museum Officer at the Museum of the Riverina in Wagga Wagga, her home town. Describing her working process, Julia says,
I begin by envisaging a landscape, and then I work on the canvas over a period of four to eight weeks; spilling, soaking, staining. All this is achieved by using movement of the body as a means to apply and direct the flow of paint. I focused on eliminating the brush gesture, resulting in fluid waves of heavy blues, fiery yellow, earthy greens and glowing oranges.
Julia's recent travels to Africa, India, Nepal, Thailand and Japan have informed her work and her interpretation of the Riverina landscape, enabling the emergence of a style that is fluid, unique and exciting. The works on display in Elements do not adhere to one particular style or theme - each painting is an autonomous creation. The artist strives to create works that are fluid, poetic and complete in their composition. Her work embodies movement reflective of current concepts and self exploration.
Exhibition Launch
When: Thursday 29 September, 6:00 - 8:00pm
Where: E3 art space, Wagga Wagga Art Gallery
Cost: Free
Opening Hours
Tuesday - Saturday: 10:00am - 3:00pm
Sunday: 12:00 midday - 4:00pm
Closed Monday 3 October