Earth Fire Water
E3 art space: 9 - 18 November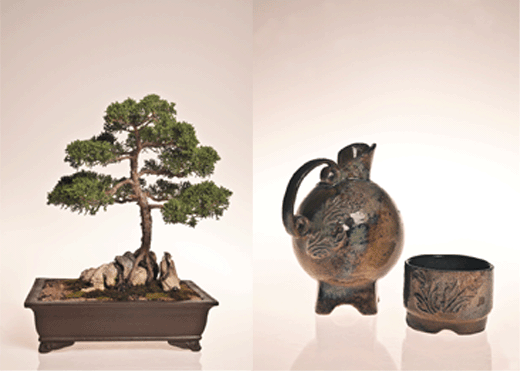 Enjoy a unique collaboration between two of Wagga Wagga's most active and exciting groups, the Wagga Wagga Bonsai Society and the Wagga Wagga Potters Club, as they host a combined exhibition Earth Fire Water.
The elements in the exhibition title are common and vital to both crafts. In the art of bonsai, it is in the earth for growing, the water to sustain and fire to enable propagation of some species. In the creation of ceramics, earth is used as the basic foundation material, water is used to keep the clay malleable whilst forming and of course fire drives the water from the clay and vitrifies the final piece.
Both the Bonsai Society and the Potters Club have a long history in this region and through Earth Fire Water they'll be sharing their experience and their expertise in these ancient crafts for all the community.
Earth Fire Water will be on display in the E3 art space on Friday 9, Saturday 10, Sunday 11 November, Friday 16, Saturday 17 and Sunday 18 November. The exhibition will be open from 10:00am to 4:00pm Fridays and Saturdays and 12:00 – 4:00pm Sundays. Members from both organisations will be available to discuss their respective crafts and of course assist you to view the beautiful work on display.
Exhibition Opening
When: Friday 9 November, 6 - 8pm
Where: E3 art space, Wagga Wagga Art Gallery
Cost: Free
Exhibition Dates
Friday and Saturday: 10:00am - 4:00pm
Sunday 12:00 - 4:00pm