Nerolie Bowman
E3 art space: 3 December - 13 December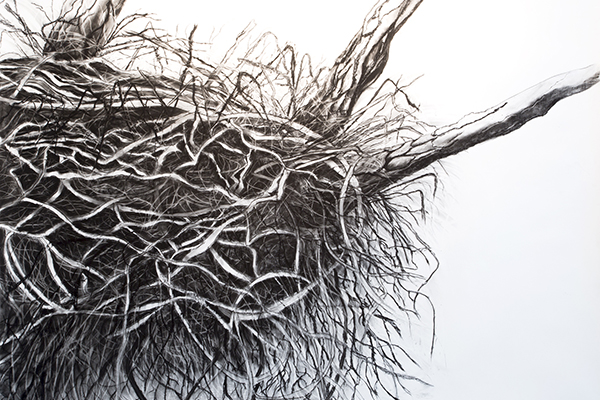 A unique exploration of natural forms and structures is now on display at Wagga Wagga Art Gallery, in local artist Nerolie Bowman's new exhibition Architects in Nature. Open from Thursday 3 December to Sunday 13 December in the E3 art space, on the banks of Wollundry Lagoon, Architects in Nature ranges from nests to trees to botanical scenes in a wide range of techniques and materials.
Describing her new exhibition, Nerolie says, "Since 2010 I have been on a journey of reconnecting with both my love of nature and my love of architecture through art. It still amazes me how the two areas are so intertwined in our world and what marvellous creations and designs they make.
"My artwork reflects my interest in the natural world, and in particular, my lifelong love of flora and fauna and how it forms natural architectural shapes and forms. My quest in this series of works is to illustrate how we as humans relate on a social and psychological level in visualising and accepting the natural world and how nature itself is an architect of life in pure spiritual and mathematical form in nature."
Based in Wagga Wagga, Nerolie Bowman is a graduate of the Advanced Diploma of Visual Arts course at the Riverina Institute of TAFE's Wagga Wagga campus. Her recent exhibitions have included the group shows Of Hand and Mind (2014), A Scape (2013), and Out of the Cave (2012).
Nerolie Bowman: Architects in Nature will be on public display in the E3 art space at Wagga Wagga Art Gallery from Thursday 3 December until Sunday 13 December, 2015. A closing celebration will be held on Sunday 13 December, at 11am.
Exhibition Details
When: Thursday 3 December – Sunday 13 December, 2015
Closing: Sunday 13 December, 11am – 12pmWhere:
E3 art space, Wagga Wagga Art Gallery