The Ronalds: In Common
Main Gallery: 13 June - 26 July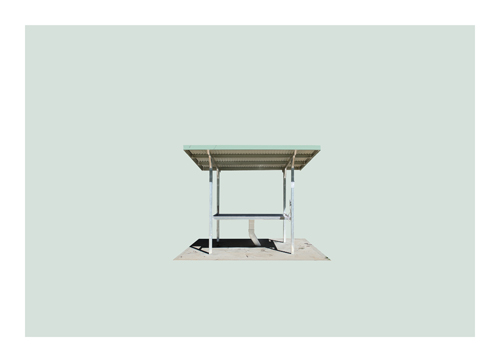 The Ronalds, Fish cleaning station, Darlington Point 2015, digital photograph (detail from In Common )
Wagga Wagga Art Gallery is delighted to present an extraordinary exhibition by one of our region's most exciting creative partnerships – The Ronalds: In Common. This ambitious project explores the public and personal environments of the Riverina through digital recreations of monuments and icons from across the region, alongside hyperreal photography reconstructing the interiors of a working farmhouse.
Patrick and Shannon Ronald are based in Ganmain NSW, and have been collaborating as The Ronalds since 2005. From their first work together they have concentrated on architectural and portrait works that employ intricate digital manipulation to create highly detailed images. Major undertakings by The Ronalds have included Disappearing Tasmania: An Image of the West (2006); A Fitted Kitchen is a Joy to Behold for the Ten Days on the Island Festival in Tasmania in 2010; and Virtual Reality (in partnership with Dr Greg Pritchard) in 2013, for the Underbelly Arts Festival on Cockatoo Island in Sydney Harbour.
This exhibition, In Common,includes two major components: In Common, commissioned by Wagga Wagga Art Gallery in conjunction with our fortieth anniversary, and Habits and Habitat, first developed for Performance Space in Sydney in 2010 and recently redeveloped for the Tasmanian International Arts Festival in March 2015.
Describing their practice in her essay for In Common, Dr Jane Deeth says that, "Since their first collaboration at art school, The Ronalds have been experimenting and refining an idiosyncratic approach to photography derived from the intersection of high-tech digital archeological mapping and low-tech cutting and pasting. This contradictory combination of processes has allowed these highly motivated and inventive artists to create images that are so jammed packed with pixels and information that they are more real than real.
"The images are simultaneously familiar and extraordinary – specimens to be individually examined and compared, like butterflies displayed under glass. While based on two-dimensional representation, the experience of this work is strangely deeply real and discombobulatingly present."
The Ronalds: In Commonwill be on display at Wagga Wagga Art Gallery from Saturday 13 June until Sunday 26 July, 2015. The exhibition will be officially launched on Friday 12 June at 6pm by Dr Jane Deeth, arts writer and educator, and director of the art and interpretation consultancy New Audiences for Art.
In Common is a photographic survey of place, mapping iconic co-ordinates throughout the Riverina. The work forms a catalogue of architecture and objects from over 100 towns in the region, from major public works buildings to quirky tourist traps usually seen only as glimpses from a car window.
You can find more information on the project here.