Lola Greeno: Cultural Jewels
Saturday 23 September, 2017 - Sunday 10 December, 2017 | Margaret Carnegie Gallery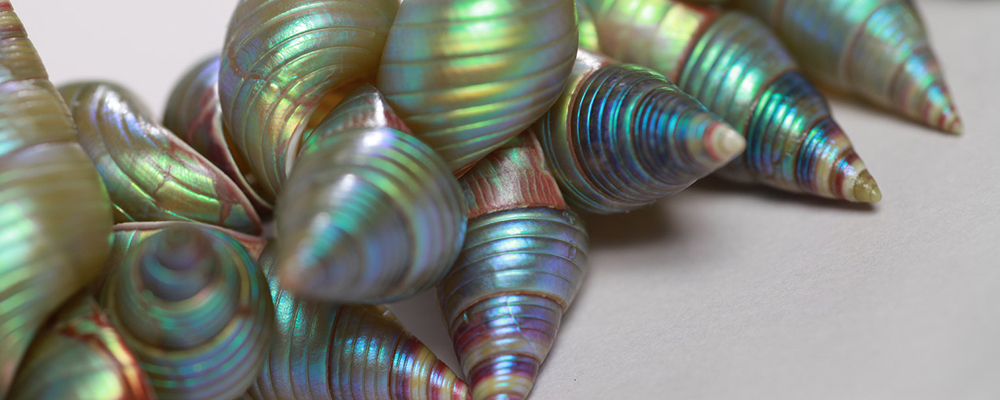 Lola Greeno, teunne (king maireener shell crown) 2013, king maireener shells, cotton thread (detail)
Lola Greeno's award-winning talent in shell-working is magnificently displayed in Cultural Jewels with highly visual and textural works, each uniquely championing the traditions and culture of the Indigenous women of Tasmania's Cape Barren and Flinders Islands. The overarching theme of Lola Greeno: Cultural Jewels is storytelling; the meticulous crafting of stories of cultural knowledge, natural beauty, ancient traditions, and connectedness with her island home.
Lola Greeno: Cultural Jewels is an Australian Design Centre national touring program developed in partnership with the Queen Victoria Museum and Art Gallery, Launceston.
Launch: Friday 22 September, 6pm-8pm
RSVP appreciated gallery@wagga.nsw.gov.au
---

Lola Greeno: Cultural Jewels is supported by Australian Design Centre's National Exhibitions Strategy funded by the Australia Council and is supported by Visions of Australia, an Australian Government program supporting touring exhibitions by providing funding assistance for the development and touring of Australian cultural material across Australia. Australian Design Centre is supported by the Visual Arts and Craft Strategy, an initiative of the Australian, State and Territory Governments. Australian Design Centre is assisted by the New South Wales Government through Create NSW, and the Australian government through the Australia Council, its arts funding and advisory body.