The Long Paddock
Saturday 6 May, 2017 - Sunday 16 July, 2017 | Main Gallery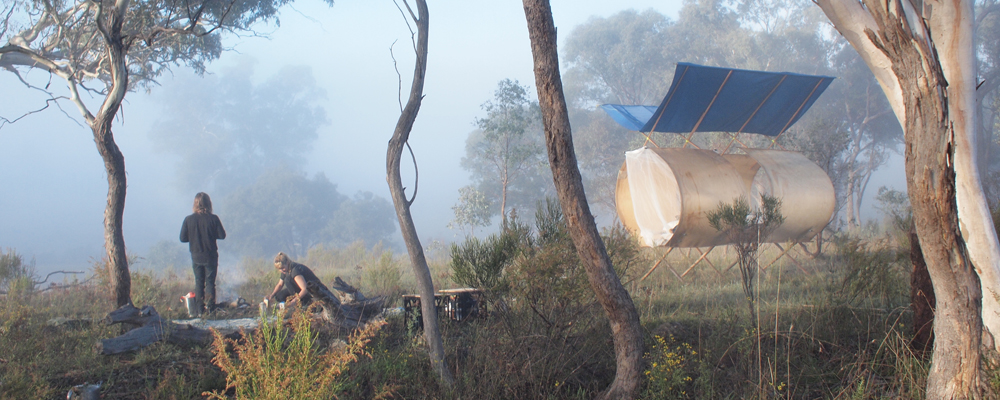 Future Acts, Future Method Studio, Rylestone Travelling Stock Route 2017 (photo: Rosie Krauss)
Curated by Joni Taylor from the New Landscapes Institute, this ground-breaking exhibition explores the history and the future of the Travelling Stock Routes network. This vast system of shared regional trails has inspired contemporary artists from across the country to respond with video, sculptural and sound-based installations.
The exhibition includes work by emerging, established and highly innovative artists including Zanny Begg, Megan Cope and Bill Buckley, Hayden Fowler, Future Method Studio, Grandeza, Josephine Starrs and Leon Cmielewski, and The Wired Lab.
Friday 5 May, 6pm-8pm: Exhibition launch
Saturday 6 May, 11am-1pm: Artist talks
Saturday 7 May, 10am-2pm: Outdoor installation, The 'Plant'
Sunday 7 May, 10am-12pm: Future Acts// Travelling Stock Reserves: Politics and Histories
At Wiradjuri Reserve
Join Future Method, Wiradjuri elders Lyn Syme & Kevin Williams, Academic Peter Spooner and Lawyer Maeve Parker for a conversation about the spatial politics, origins and futures of the Travelling Stock Reserves.
Our Commons and the Travelling Stock Reserves (TSR's) contain practical, environmental and cultural resources that are depended upon today as they have been for millennia. We are only now beginning to understand the origins of them and their relationship to indigenous trade routes, aboriginal sites of occupation and their significance to biodiversity.
This public forum is part of the Public Program for The Long Paddock, an exhibition of creative responses to the past, present and futures of the TSR network.
Thursday 11 May, 1pm-2pm: Riverina Conservatorium of Music Lunchtime Concert Series #3
Saturday 17 June, 6pm-8pm: Exhibition catalogue launch, whipcracking performance by Emiliqua East, and performance and readings from Booranga Writers Centre
Saturday 15 July, 10am-12pm: 'Art & Agriculture' Round Table
Find more information at Facebook here
Travelling the Stock Routes
- Claire Baker
in response to Lines of Movement – a Wiradjuri History by The Wired Lab
triangular confetti speak of the black/white paradigm
where land is reduced to a glassed-in artwork
narrow ribbons of red/green/black
criss-cross the white wrapped land
a present for some bureaucrat
from a medical textbook
a diagram of the circulation system
capillaries arteries veins
leading to and from the nation's heart
lifeblood of the livestock trade
but what's that mark near Myrtleford
is it a drop of blood or coffee?
the whisper of long grass brushing jean-cladded legs – or bare
it's a long walk on foot from Coota to Brungle
frog throats swell then plunk a bass note
a rhythmic undertone for chirping crickets
and the cockatoos arc in a downward curve
a bracelet of feathers linking sky with land
words unfamiliar tumble and roil
a voice disembodied dispossessed speaks in Language
of a grandmother's raising that one's girl as her own
eating backstrap and leg of goanna
cooked by an uncle over an open fire
learning to swim in the stock dam with friends
getting told off by Elders for exploring sacred places
and at night
scooping a bed in the soil
and falling asleep
with hands over hearts
to stop Mirriyula from hearing
---
Nirvana Down Under
- Ingrid Bruckner
after Hayden Fowler Australia
My feeding eyes painted in disguise
yet my heart sees smiling at little lies
The Fowler whitened reproduction
deceptively bathed in virginal seduction
Upon the table rests a silent subject
transitioned to a centre of no regret
Still the island turns legs toward the past
offering a smooth sacrificial plaster mask
The dismantled hands of time
now gather in a circle to climb
Midpoint marked upon its forward face
a heads-up that fear has left this place
The dance of circular intersection
eclipsed lightly by timeless perfection
As the spirit soars to be absorbed
it leaps and bounds across the glowing orb
There the empty hallowed bones
have answered the ultimate call to home
Finally surrendered to the bonafide
where day and night so sweetly collide
Its dreamy essence long taken leave
along unbroken cords that snake and weave
Greeting trumpets from where angels sing
through the joyous beat of flapping wings
I hear the wisdom only nature knows
her forgiving heart now swells and grows
Where the Mother lay dormant in loving gestation
till the white in all eyes feast upon her creation
She knows no journey can be travelled reverse
and nurtures the cycle of death and of birth
Here no season berated for its barren depletion
ever trusting the circles unending completion
---
Prodding the Past
- Joan Cahill
After Megan Cope & Bill Buckley's 'Travelling Incognito'
Walk past the beam
obliterate the image of the track
as between the camera of the drone
and the landscape below
the map is pink – a signature
on the ground at sunset
feel the water, trees by the river
dappling the light
a juxtaposed aboriginal work of art
then twilight that time of nothingness
neither day nor night
settle the mob, scan the horizon
no interlopers in sight
a wash of lime on hard-wearing bark
tied securely with handmade rope
as stockmen blacks and whites
captives of the pastoralist
boil the billy, sweet tea
beef, potatoes and damper –
the bread has run out.
big sky, cold air, cattle bellowing
huddle behind the shelter
of a whitewashed past.
---
Medusa Mastery
- Cindy Lee Flint
After Zanny Begg's 'The Bullwhip Effect'
Cattle conjurer
Maticulous motion
Rythmic rapture
Articulated action
Twine tallons
Enchanting executioner
Brutal blasts
Sporadic slaughter.