ARTEXPRESS
Saturday 22 June – Sunday 25 August 2019 | Main Gallery + The Channel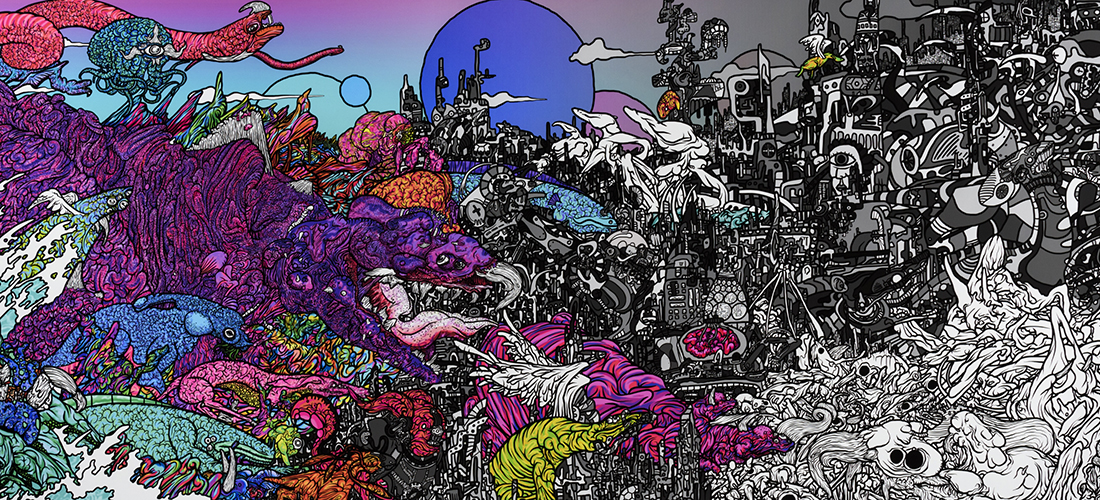 Image: Bryan Lim, Evolution of the Synthetic Nature (detail), 2018, Rose Bay Secondary College, ARTEXPRESS
Featuring a selection of outstanding student artworks developed for the artmaking component of the HSC examination in Visual Arts 2018, ARTEXPRESS 2019 provides insight into students' creativity and the issues important to them. The exhibition encompasses a broad range of approaches and expressive forms, including ceramics, collection of works, documented forms, drawing, graphic design, painting, photomedia, printmaking, sculpture, textiles and fibre, and time-based forms.
To view more work from ARTEXPRESS 2019
---
ARTEXPRESS is a showcase Higher School Certificate Bodies of Work as a high quality teaching and learning resource representing best practice in visual arts education. Celebrate student achievement. Connect communities through the visual arts. Exhibitions aim to reflect Higher School Certificate Visual Arts candidature: Government/non-government schools, gender balance, regional representation and expressive form. Exhibitions are selected by gallery curators, education officers in association with ARTEXPRESS Officer, from works nominated by Higher School Certificate markers that are deemed excellent examples suitable for exhibition. The final exhibition is approved by the Board of Studies, Teaching and Educational Standards.
HOW IT HAPPENS
ARTEXPRESS is a series of exhibitions that take place over an eleven month period. It is a collaborative project that comes together through the efforts of many people.
Bodies of work from schools, mostly from the Sydney metropolitan area, are sent to the Visual Arts Marking Centre at Homebush Bay to be marked. Bodies of work from the remaining metropolitan schools and many country regions are marked in each school by visiting teams of markers.
Nomination for ARTEXPRESS occurs after the marking of the Higher School Certificate Visual Arts bodies of work. Nomination for ARTEXPRESS does not indicate a particular mark for a student's body of work. There are many factors involved in the nomination of works for ARTEXPRESS.
Bodies of work nominated for ARTEXPRESS represent all the expressive forms described in the Visual Arts syllabus - drawing, graphic design, painting, printmaking, photomedia, designed objects, textiles and fibre, sculpture, documented forms, ceramics, time-based forms and collection of works.
The final selections for ARTEXPRESS reflect the candidature for the HSC Visual Arts course and include works from metropolitan and regional centres. The bodies of work represent a range of expressive forms. Consideration is also given to the relationship between bodies of work in different exhibition venues.
Venues exhibit the students' bodies of work as submitted for examination, in part or as a complete submission depending on gallery space. The bodies of work in ARTEXPRESS exhibitions may be exhibited at one or more galleries. Each venue has a unique combination of works.
| Programs | Date | Time |
| --- | --- | --- |
| ARTEXPRESS Teachers Day | 20 June 2019 | 8.30am - 4pm |
| ARTEXPRESS Student Workshop | 21 June 2019 | 9am - 3pm |
| ARTEXPRESS Exhibition Launch | 21 June 2019 | 6pm - 8pm |
All enquiries please contact the Arts Unit https://www.artsunit.nsw.edu.au/contact