JamFactory ICON: Clare Belfrage: A Measure of Time
27 July - 30 September 2019 | National Art Glass Gallery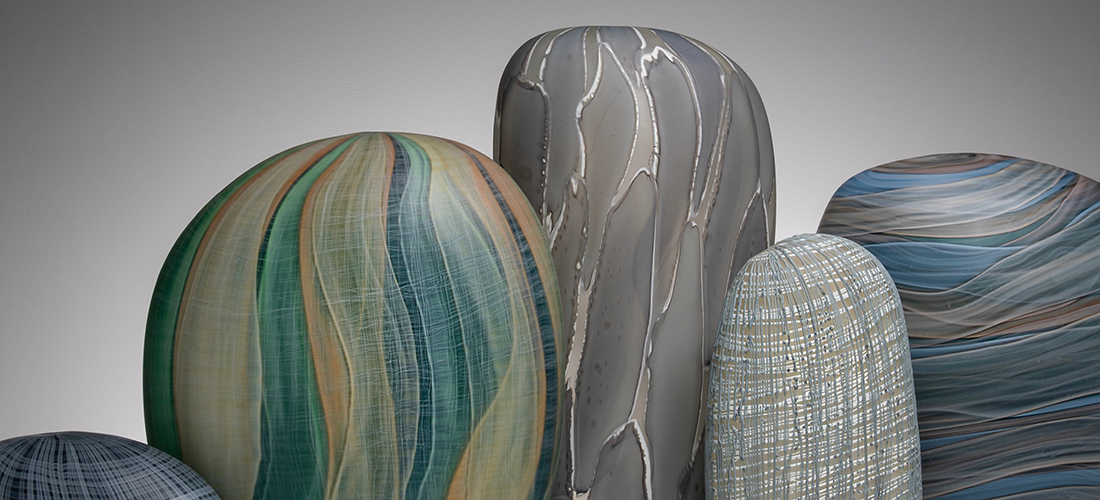 Image: Clare Belfrage, A Measure of Time (detail), collection of works, 2018. Image: Pippy Mount
Throughout her career, Clare Belfrage has maintained a vibrant studio glass practice and is known for her distinctive artworks in which complex patterns of fine glass lines trace her forms. Inspired by the repetitious patterns found in nature and the woven lines of textiles, Belfrage is particularly drawn to the layered rhythms that mark growth, change and the passing of time in the natural world.
The characteristically fluid lines that are found throughout Belfrage's works are part of a technical breakthrough involving the artist's innovative use of fine glass rods known as 'stringers'. In this process, Belfrage applies heavily stretched, thinned and lengthened stringers to her blown glass forms at an early stage in production. Rather than using commercially available stringers, Belfrage makes her own, painstakingly walking and stretching glass along tracks in order to produce very fine lengths of glass with the desired thickness, density, transparency and linear effects.
The fine threads of glass are carefully positioned and fused onto the surface of the blown glass form with a torch to create the desired repetitious patterns. The resulting surface has an almost textile-like quality akin to those produced by knitting and weaving. As very few glass artists have extended their knowledge and experimented with the practical application of drawing with stringers as much as Belfrage, she is widely regarded as an ardent pioneer and innovative developer of the technique.
With a strong focus on cultivating strong connections within the glassblowing community, Belfrage has been an active member of the glass community throughout her career. Belfrage was one of the founding members of iconic Adelaide-based glass studio Blue Pony, which was used for over fourteen years by a diverse group of both independent and collaborative glassmakers from 1997 to its closure in 2011. Furthermore, during her five-year tenure as Creative Director of the Canberra Glassworks from 2009 to 2013, Belfrage played a pivotal role in nurturing the careers of emerging and established glass artists.
JamFactory ICON: Clare Belfrage: A Measure of Time is a JamFactory touring exhibition.
JamFactory ICON: Clare Belfrage: A Measure of Time has been assisted by the South Australian Government through Arts South Australia and the Australian Government through the Australia Council for the Arts, Contemporary Touring Initiative.
Clare Belfrage acknowledges the assistance of the South Australian Government through Arts South Australia.
Clare Belfrage is an Adjunct Professor with The School of Art, Architecture and Design at the University of South Australia.