Moving Histories // Future Projections
Saturday 16 February – Sunday 12 May 2019* | Margaret Carnegie Gallery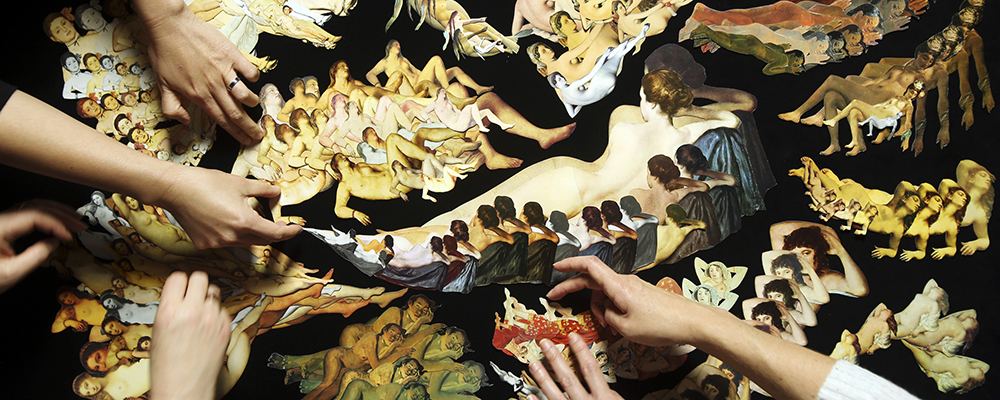 Image: Deborah Kelly, LYING WOMEN (still), 2016, stop motion animation from paper collage, stereo sound, 3:56 mins. Cinematography by Christian J. Heinrich. Edited by Elliot Magen. Original score by Evelyn Ida Morris. Sound by Adam Hulbert. Courtesy the artist.
---
Moving Histories // Future Projections brings together some of Australia's leading female contemporary artists working across screen based media including Mikala Dwyer and Justene Williams, Amala Groom, Deborah Kelly, Kate Blackmore and Jacinta Tobin, Joan Ross, Soda_Jerk, Angelica Mesiti and Caroline Garcia.
Curated by Kelly Doley and Diana Smith of collaborative artist group, Barbara Cleveland, the exhibition explores invisible pasts, forgotten narratives and repressed memories, reminding us how history is fractured by race, class and gender.
Exhibition brochure available here
Please note: Due to major flooring upgrades and repairs at the Wagga Wagga Art Gallery, the Margaret Carnegie Gallery will be closed from Monday 25th March and will reopen on Saturday 6th April. We apologise for any inconvenience this may cause.
A dLux Media Arts exhibition toured by Museums & Galleries of NSW