Intimate Transactions
E3 art space: 28 August - 27 September 2008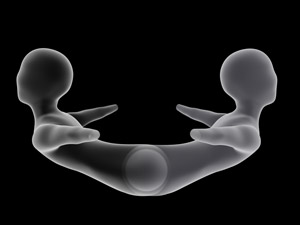 Stuart Lawson, Two participants' body avatars joining, 2005, digital image

The person you want to interact with is in another Australian location. You can only communicate using your body. You and your partner have the same new technology at your disposal - 'smart furniture' (called the Bodyshelf) that is embedded with an array of sensors that detect your movements and reflect them as two moving shapes on large screens. Everything you do influences an evolving 'world' created from digital imagery, multi-channel sound and tactile feedback. You are both part of a new and beautiful virtual space; a delicate digital ecology.
Wagga Wagga Art Gallery is partnering with the Experimental Art Foundation in Adelaide to bring a new mode of interactive experience to Wagga Wagga. Intimate Transactions is a new form of networked multimedia installation that allows two people in geographically separate spaces to interact simultaneously using only their bodies, communicating through virtual space.
Intimate Transactions has been developed over four years by the Brisbane-based 'Transmute Collective', and has been exhibited in Austria, England, the USA and Greece. In 2005 the work won a prestigious honorary mention at the Ars Electronica festival in Linz, and earlier this year represented Australia in Beijing at the Olympic Arts Festival.
Intimate Transactions will open in Wagga Wagga Art Gallery's E3 art space on Thursday, August 28 at 6.30pm, when Guy Webster from the Transmute Collective will discuss the work and launch the exhibition.

Intimate Transactions Resources website
Education Program Upper Primary
Education Program Lower Secondary

Intimate Transactions is an interactive work by the Transmute Collective, toured by Museum and Gallery Services Queensland. This exhibition is supported by Visions of Australia, an Australian Government Program supporting touring exhibitions by providing funding assistance for the development and touring of Australian cultural material across Australia.