Spirit
Works from the Margaret Carnegie Print Collection
Main Gallery: 3 April - 31 May 2009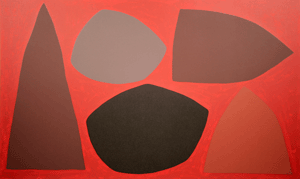 John Coburn, Sacred Site, 1987, screenprint

Spirit presents a range of works on paper exploring religious and spiritual themes by some of Australia's most prominent artists of the past forty years, coinciding with the exhibition of the Blake Prize for Religious Art and the visit of the Tibetan monks to Wagga Wagga Art Gallery. The prints on display draw upon many different faiths and traditions: Tim Johnson's Three Worlds combines iconography from Christianity, Buddhism and Indigenous Australian spirituality, while GW Bot's Natasha juxtaposes an Orthodox Christian icon with the figure of an Indigenous Australian wandjina. Similarly, despite the Old Testament reference of its title, John Coburn's The 2nd day: God separated the light from the dark, incorporates imagery drawn from Taoism, a variant on the yin-yang symbol.
A striking feature of this exhibition is also the diversity of Christian faith: Celtic Christian imagery can be found in Alan R Mann's Icon to a fossil king and Andrew Sibley's Celtic mother and child 'down under', while works such as Patrick Henigan's Pieta and Noela Hjorth's Untitled (The crucifixion) reinterpret classic Christian iconography.
The works featured in Spirit are, with one exception (Franck Gohier's St Karama, from a private collection in Wagga Wagga), all drawn from the Margaret Carnegie Print Collection, Wagga Wagga Art Gallery's collection of Australian prints. This collection was launched by the generosity of Margaret Carnegie AO OAM, a local collector and patron of the arts, and focuses on Australian printmaking of the past five decades. Many of the works in Spirit have not been on show for several years, and this exhibition provides an opportunity to demonstrate the breadth of the Collection. However, there are also several recent acquisitions on display for the first time, including four works from Andrew Sibley's Proposed - New Saints 'Down Under' series, donated to Wagga Wagga Art Gallery by the artist, and Tony Ameneiro's Small Night Skull.
A Wagga Wagga Art Gallery Initiative
Room Brochure

Opening
When: Wednesday 8 April 2009, 6:00- 8:00pm
Where: Wagga Wagga Art Gallery
Cost: Free