David Hearne: Condition
E3 art space: 5 - 15 February 2009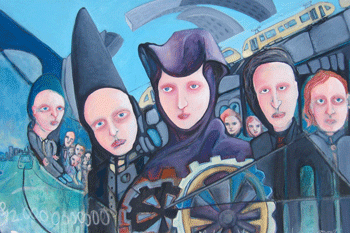 David Hearne, Glenferrie Rd Malvern Vic, 2007, oil on cotton

Condition, an exhibition of new and retrospective work by David Hearne, launched the 2009 exhibition program of the E3 art space at the Wagga Wagga Art Gallery. A graduate in Fine Arts from Charles Sturt University (1987-1989), David has exhibited and taught in Tasmania, Victoria and New South Wales, and is currently a practising artist and teacher in Wagga Wagga. In this selection of paintings and works on paper, David explored human imperfections and their relationship with existing moral frameworks.
Two extremes were explored in Condition: punk gestures with surreal backdrops, and the themes of vulnerability and inclusion expressed in the human form. In a series of landscapes, time and the transitory condition of the natural environment provided yet another strand to this exhibition. These works spanned the twenty years of David's career and traced his work from its beginnings in Wagga Wagga to his recent return.
Condition was on display in the E3 art space, Wagga Wagga Art Gallery from Thursday, 5 February to Sunday, 15 February 2009, before travelling to Melbourne. The official launch of Condition took place on Friday, 6 February 2009, at 6.00-8.00pm.