Gerry King: Into the Fourth Decade: a retrospective
National Art Glass Gallery: 2 October 2009 - 10 January 2010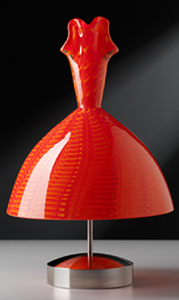 Gerry King, 'and all things nice' 08/03, 1999, kiln formed glass

Gerry King: Into the Fourth Decade presents an array of work by renowned glass artist and designer Gerry King. His work has been extensively exhibited, collected and published both in Australia and internationally and is held in some twenty major public collections worldwide. Whilst orientated towards exhibiting, he is also engaged in design commissions and architectural projects.
One of the first Australians in the field, King commenced working with glass while undertaking postgraduate studies in the United States during the early 1970s. Originally trained as a glassblower, he now works with a wide variety of techniques including hot, cold and warm worked glass. He holds various academic awards, culminating in a Doctor of Creative Arts from the University of Wollongong. In the 1980s, he was instrumental in the development of the Glass Studies course at the University of South Australia, still one of only a few Australian tertiary institutions to offer glass as a course of study.
This exhibition brings together pivotal works from King's artistic journey through four decades of working in glass. While his work is now inspired by ideas, he has long been acknowledged as an exceptional craftsman of uncommon breadth. His works both old and new, 'cornerstones of the journey' and 'hot off the press' still manage to present new ideas and take the viewer on a journey along with the artist.

Opening
When: Thursday 17 December 2009, 6:00 - 8:00pm
Where: Main Gallery
Cost: Free