Rough Country
Works from the Margaret Carnegie Print Collection
Margaret Carnegie Gallery: 23 January - 15 March 2009


Rough country on display in the Margaret Carnegie Gallery, 2009

Rough Country presents visions and interpretations of the wild landscape - the bush, the desert and the mountains - from the last forty years of Australian printmaking. Geographically, the works in this exhibition span the entire country, from the Riverina region in Fred Williams' Murray River Panel Series I, to the vast sweep of Basil Hadley's North West Landscape. While some works focus on the details of rock and vegetation, such as Jorg Schmeisser's Diary and Pilbara, others render the landscape in more abstract styles, as in GW Bot's Calligraphy of drought I or David Rankin's Lohan Creek.
The works featured in Rough Country are all drawn from the Margaret Carnegie Print Collection, Wagga Wagga Art Gallery's collection of Australian prints. The Collection was launched by the generosity of Margaret Carnegie AO OAM, a local collector and patron of the arts. It includes some prints from the late nineteenth and early twentieth centuries, but its chief strength lies in works from the 1960s onward, a period that corresponds with the flourishing of printmaking as an artform in Australian. Quite a few of the works in Rough Country have not been on display for many years, and this exhibition provides an opportunity to demonstrate the breadth of the Collection.
Rough Country also features several key recent acquisitions. Dianne Fogwell's Drought is a four-panel relief print from lino and woodcut, the acquisition of which was made possible by the Friends of the Wagga Wagga Art Gallery. This exquisitely detailed work provides a close-up of terrain and wildlife that contrasts with the broader landscape views elsewhere in the show. The acquisition of Indigenous prints, too, has been one of the chief focuses of recent collection policy, and three works by Indigenous artists - Rusty Peters' Bamboo Creek Swamp, and Nancy Nodea's Hills of Warmun I and II - are also on display.

A Wagga Wagga Art Gallery Initiative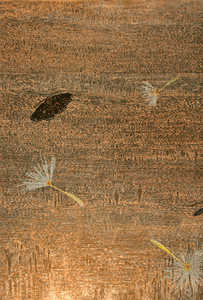 Dianne Fogwell, Drought, 2008, linocut, woodblock (detail)
Room Brochure

Opening
When: Friday 30 January 2009, 6:00- 8:00pm
Where: Wagga Wagga Art Gallery
Cost: Free