Shaun Gladwell: Videowork
Margaret Carnegie Gallery: 26 June - 16 August 2009


Shaun Gladwell: Videowork on display in the Margaret Carnegie Gallery, 2009

Shaun Gladwell is one of Australia's most prominent younger artists, renowned internationally for his extensive work in the medium of video. Shaun Gladwell: Videowork, on display in the Margaret Carnegie Gallery, features a selection of video pieces incorporating skateboarders, BMX riders and other physical and street performers in urban environments from around the world.
Gladwell's video works draw upon personal experience as well as wider speculation on art history, theory and the dynamics of contemporary culture. As well as the opportunity to experience one of Australia's most important contemporary artists, Videowork offers anyone with an interest in skateboarding, bike riding or even martial arts the chance to pick up a few tricks from the performers on display!
Shaun Gladwell was born in Sydney in 1972. He has undertaken numerous residencies and commissions, and has exhibited extensively in Europe and North America, as well as international exhibitions such as the 27th Bienal de Sao Paulo in Brazil, the 2005 Yokohama Triennale in Japan, the 2006 Busan Biennale in South Korea, and Revolutions: Forms that Turn, the 2008 Biennale of Sydney. In 2009, he was the official Australian representative at the 53rd Venice Biennale of Contemporary Art, with the exhibition MADDESTMAXIMUS: Planet & Stars Sequence.

An Artspace exhibition toured by Museums & Galleries NSW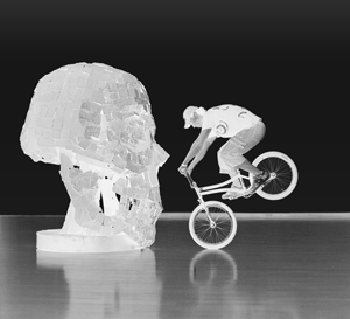 Shaun Gladwell Busan Triptych: Negative Calligraphy and Skull 2006, 3-channel DVD (still detail)
Education Kit