TwoPointZero: CSU BA Photography
Links Gallery: 20 November 2009 - 10 January 2010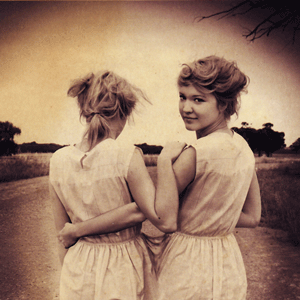 Katie Fairservice, Twins, 2009, digital photograph

A feast of photography returns to Wagga Wagga Art Gallery with the opening of TwoPointZero, the second graduation exhibition by students from the Bachelor of Arts (Photography) at the Wagga Wagga campus of Charles Sturt University. TwoPointZero reveals a wide variety of photographic styles and techniques, with a particular focus on portraits and the human figure, alongside landscapes, abstract works and many other subjects. This diversity forecasts the range of photographic practices to which these students aspire as they begin the next stage of their careers.
The success of these works reflects the culmination of intense study by these students within the School of Visual & Performing Arts at Charles Sturt University. At the same time, each of these committed and talented practitioners has brought their own identity to their work. This is a consequence of geographical location equally balanced with a national perspective, and a determined eye on the world stage.
Participants in TwoPointZero include Natasha Austin, Nicholas Dogao, Katie Fairservice, Elise Hancock, Erin Hardman, Jacinta Horton, Philip Hutchinson Barry, Ashly Matheson, Samantha Mullavey, Emma Ryan, Jason Triffitt and Merryn Webb. These will be the second group of students to graduate from the Bachelor of Arts (Photography) degree course at the Wagga Wagga campus. This year they will be joined by Tim Crutchett and Sophie Schirmer, from the new Master of Arts Practice (Photomedia).
Charles Sturt University Photography graduate show explores a range of practices from fine art to more commercially orientated photographic imagery.

Opening
When: Saturday 21 November, 6:00 - 8:00pm
Where: Links Gallery
Cost: Free