F!NK: Fostering Design
Main Gallery: 12 February - 18 April, 2010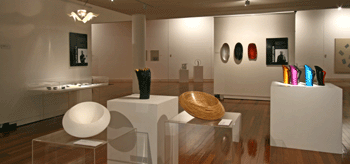 F!NK on display in the Main Gallery, 2010

Jewellery and juicers, bowls and brooches: these are just some of the everyday items transformed into amazing objects of desire by one of Australia's most innovative and distinctive design companies. Curated by Merryn Gates, F!NK: Fostering Design features a retrospective of the entire range of designs by Canberra-based F!NK & Co., alongside objects designed by Robert Foster, founding member of the firm. Kettles, lamps, jugs and vases are just a few of the pieces created by these inspired designers in sleek aluminium, titanium and stainless steel.
In the field of innovative design, F!NK and Co. has gained an international reputation as a spirited and distinctive Australian design company. F!NK: Fostering Design highlights the role of Robert Foster as the creative force behind F!NK and Co., and the partnerships he has developed with other emerging Australian designers. With over nineteen years' experience in the arts and design, Robert Foster holds an unparalleled global reputation as a silversmith and leading designer, with work included in the collections of Australia's major institutions.
The exhibition draws upon Foster's skills in working with other designers and makers. His shared experience with other artists through formal mentorships, collaborations, and by invitation to design for F!NK and Co. is highlighted through the collaborations with Elizabeth Kelly, Sean Booth, Bronwen Riddiford, Rachel Bowak and Rohan Nicol.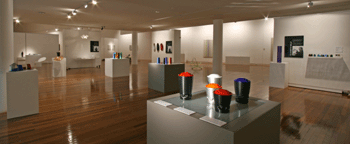 F!NK on display in the Main Gallery, 2010








Opening
When: Friday February 12, 6:00 - 8:00pm
Where: Wagga Wagga Art Gallery
Cost: Free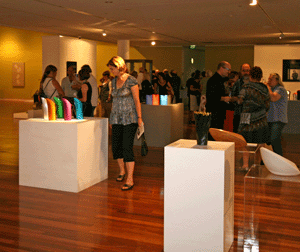 Visitors enjoying the opening function celebrations