Women With Clever Hands: Gapuwiyak Miyalkurruwurr Gong Djambatjmala
Main Gallery: 3 September - 31 October 2010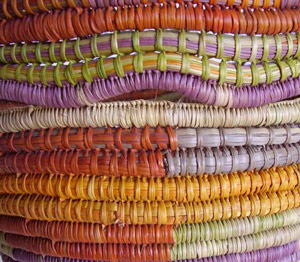 Joyce Milpuna Bidingal. Coiled basket (detail) dyed and woven pandanus

Women With Clever Hands: Gapuwiyak Miyalkurruwurr Gong Djambatjmala features fibre work by women artists from Gapuwiyak in northeast Arnhem Land, developed by guest curator Louise Hamby. It is the first time the women of Gapuwiyak, past and present, have presented an array of their creative work in fibre. Their aesthetically beautiful works combine simple, functional shapes with intricate design, fine detail and subtle colour, all of which in turn, reflect the complexities of their land and their culture.
The group comes from Gapuwiyak, (meaning salty or bitter water), and is the Aboriginal name for their small, inland community situated in eastern Arnhem Land, 16 kilometers from the coast. Although today there are many clan groups living in Gapuwiyak, the landowners are Gapapuyngu who are one of the smaller groups of the population. The main clans within the community are Dhalwangu, Djambarrpuyngu, Marrangu, Wagilag and Ritharrngu. The majority of the artists live in the township and the others reside in the outstations surrounding Gapuwiyak.
This exhibition has developed from 1995, when the relationship of the women with Louise Hamby, who was commencing her PhD studies, began. Through her work she set out to investigate the complex set of issues surrounding the making, meaning and use of fibre objects in the community. Women with Clever Hands has been nurtured through this exchange and is fortunate in being able to capture fifteen years of women's lives through their work. Lucy Malirrimurruwuy Wanapuyngu assisted Louise with the curation of this exhibition. She and many others are to be thanked and congratulated for their support.
This exhibition has been developed by Louise Hamby and the Gapuwiyak Community in partnership with the Wagga Wagga Art Gallery. We acknowledge the generous support from Visions Australia.

This exhibition is supported by Visions of Australia, an Australian Government program supporting touring exhibitions by providing funding assistance for the development and touring of Australian cultural material across Australia.



Views of the exhibition on display at Wagga Wagga Art Gallery

Education Resources
Public Programs
Women with Clever Hands and Yalbalinya Ngurra (Learing side by side) - Tour and Workshops
School groups and community organisations are invited to a guided tour of two significant fibre craft exhitions currently on display - Women with Clever Hands and Yalbalinya Ngurra - followed by a fibre arts workshop .
Over a two hour period you will gain an insight into the resurgence of an age old craft of making baskets and associated objects from your local Wiradjuri country and Yolngu country, N.T. You will be guided through the exhibitions Yalbalinya Ngurra and Women with Clever Hands by Melanie Evans, Curator and local Wiradjuri Elder. The tour will then be followed by a hands on workshop in the E3 art space conducted by members of the Wingadhan Waggada Waybarra group, where you can create your own bracelet or broach using local, recycled and found materials.
When: Thursday 30 September
Thursday 7 October
Thursday 1 October
Friday 8 October
Cost: Free
Bookings Essential: Phone (02) 6926 9660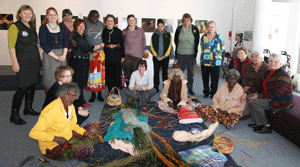 Pictured are Elders from the Wagga Wagga Aboriginal Elders, Art Gallery staff, curators and community members who were involved in a community day with the artists from Gapuwiyak.


Pictured are patrons enjoying the open workshop in the exhibition Women with Clever Hands.

Come and Try Workshops
These free workshops are open to anyone who would like to come along and pick up some skills in fibre and other textiles techniques. This is an open style workshop with people sharing, contributing and exchanging knowledge. So come and go as you like!
When: Saturday 14 & 28 August, 1:00 - 3:00pm
Where: Artist in Residence, Wagga Wagga Art Gallery
Cost: Free

Walkthrough and Demonstration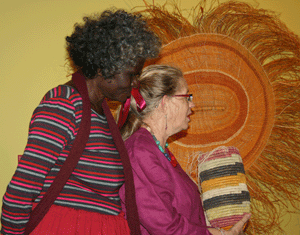 Guest Curator Louise Hamby gives an informative floortalk
Come and join Louise Hamby, guest curator, and Lucy Wanapuyngu artist and Indigenous curator, as they take you on a journey through the exhibition. At the end of the walkthrough the women of Gapuwiyak will demonstrate their skills in making fibre objects.
When: Saturday 4 September 2010, 11:00am
Where: Wagga Wagga Art Gallery
Cost: Free

Workshop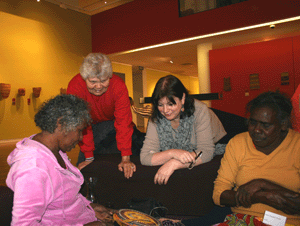 Learning from each other left to right Lesley Wininingu, Isabel Reid, Lynda Patullo and Helen Guyula
Join the women from Gapuwiyak for an open workshop. Sit with the women in the exhibition space nestled amongst the work. Watch, attempt and learn using materials from the Riverina region as well as Arnhem Land.
When: Sunday 5 September 2010, 12:00 - 4:00pm
Where: Wagga Wagga Art Gallery
Cost: Free