Yalbalinya Ngurra: Learning side by side
E3 art space: 3 - 19 September 2010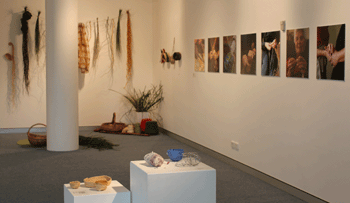 Yalbalinya Ngurra on display in the E3 art space, 2010

A ground-breaking exhibition of local fibre work, presented by Wingadhan Waggada Wiybarra, the Women of Wagga Weaving Group, Yalbalinya Ngurra: Learning side by side features fibre craft and textiles by Indigenous and non-Indigenous women, young and old, from across the Riverina region. Displayed alongside images of the creative and collaborative processes integral to their practice, natural, found and recycled materials have been transformed into objects of significance that reconnect Indigenous women with their heritage, and connect non-Indigenous women with country, giving all involved a sense of place and connections with each other.
Yalbalinya Ngurra includes work in a diverse range of techniques and styles that illuminates the variety and creativity of local culture and community. Through cultural exchanges of skills in weaving and sewing, collecting and bush dying, twining, spinning and gathering, the women Wingadhan Waggada Wiybarra share and tell their stories. Melanie Evans, trainee Indigenous Curator at Wagga Wagga Art Gallery, has worked with the local Indigenous community, bringing together a weaving group including local Wiradjuri Elders and Aboriginal students and teachers from Mount Austin High School to create works for this exhibition. Aunty Kath Withers from the Wagga Wagga Aboriginal Elders Group Inc. says, 'Each piece is individual and I am finding I am tapping into my intuition and creating objects from my culture and heritage'.
Yalbalinya Ngurra has been developed in conjunction with the Gapuwiyak Fibre Project and the exhibition Women with Clever Hands: Gapuwiyak Miyalkurruwurr Gong Djambatjmala . Both exhibitions coincide with a series of collaborative workshops where women from the Arnhem Land community of Gapuwiyak exchange skills and techniques with the local Wiradjuri community.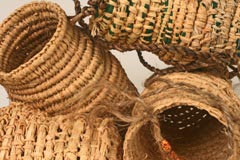 Gail Manderson, Kath Withers and Briannah Schroot-Withers, Coil Baskets, 2010, raffia and wool
Opening
When: Friday, 3 September 6:00-8:00pm
Where: E3 art space, Wagga Wagga Art Gallery
Cost: Free