Rated Art: TAFE NSW Riverina Institute Fine Arts
E3 art space: 27 October - 4 November 2011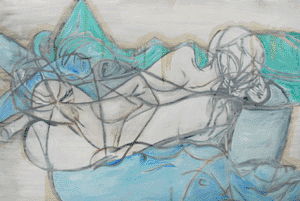 Mary Grainger, Laying a wash, 2011, mixed media

An exciting exhibition of work from Wagga Wagga's newest cohort of emerging local artists, Rated Art features works in an exhilaratingly wide range of media and techniques by graduating students from the Diploma Fine Art - Stage 1 course at the Wagga Wagga campus of TAFE NSW Riverina Institute.
The degree show is a celebration of creativity, energy, ambition and achievement. Rated Art represents the end of the first year of a three year degree of learning, research and creative development by art students of the Art and Design program in the unique context of an integrated program with Charles Sturt University. Visitors will be able to view extraordinary work in painting, drawing, printmaking, photomedia and sculptural creations.
Artists featured in Rated Art include: Denis Casley, Geraldine Cottrell, Tina De Jong, Christine Dunn, Emily Dyason, Dimity Einhaus, Hazel Fellows, Lynette Ford, Jessica Grainger, Mary Grainger, Deborah Hedley Dobbin, Rebecca Hillis, Edith Holt, Ammon Hope, Myriam Hribar, Ruth Jackson, Sarah Leslie, Lisa Miller, Tracey Murphy, Julie Perri, Nicole Ryan, Jessica Sinclair, Arron Tooth, Raeleen Pfeiffer, Juanita Mclauchlan and Valerie Grimm.
Exhibition Launch
When: Friday 28 October, 6:00 - 8:00pm
Where: E3 art space, Wagga Wagga Art Gallery
Cost: Free
Opening Hours
Monday - Friday : 10:00am - 3:00pm
Closed: Saturdays, Sundays