Recycled Library: Altered Books
Margaret Carnegie Gallery: 4 March - 29 May 2011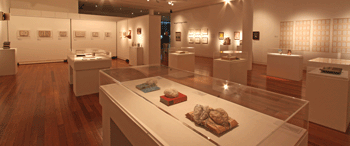 Recycled Library on display in the Margaret Carnegie Gallery, 2011

Tracing a history of altered books in Australia through the work of seventeen artists, Recycled Library incorporates existing and found books presented as sculptures, wall-based collages, artists' books, or photographs. During an era in which the printed page is in danger of being superseded by digital technology, the connecting element in all the work is a continuing fascination with iconic significance and primacy of 'the book'.
The exhibition focuses on works that have a conceptual, political or social concern and range from the 1970 conceptual work Introduction to a book by Paul Partos (1943-2002) to the beautifully crafted recent work by the Melbourne artist Kylie Stillman (born 1975). Other artists include Simryn Gill, Marion Borgelt, Jayne Dyer, Julie Gough, Paul Hoban, Liz Jeneid, Yvonne Kendall, Archie Moore, Janis Nedela, Ti Parks, Patrick Pound, Alex Selenitsch, David Sequeira, Glen Skien and Hossein Valamanesh.
Many of the works on display in Recycled Library explore the reliance on the printed text as vehicle for cultural migration. They question presumed knowledge about history, philosophy, science, literature and even art: examining Anglo-Celtic cultural importation from an Asian perspective and questioning the 'history' of white settlement from an Indigenous perspective.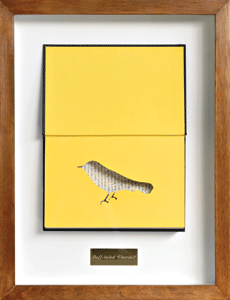 Kylie Stillman Buff-tailed thornbill 2005, book
Collection Artspace Mackay, Mackay Regional Council

For the Education Kit click here.

Recycled Library: Altered books is a national travelling exhibition curated by Michael Wardell for Artspace Mackay and toured by Museum & Gallery Services Queensland. The exhibition tour is supported by the Contemporary Touring Initiative through Visions of Australia, an Australian Government program, and the Visual Arts and Craft Strategy, an initiative of the Australian Government and state and territory governments.